(CONTEST REWARD ENDED) 🥭 SHARE YOUR EXCITEMENT, WIN AN EXCLUSIVE COMMUNITY BADGE! 🥇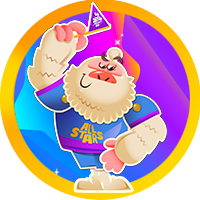 A whole new Crash Adventure is awaiting for you! 🎉🎊
A very exciting King game ever, Crash Bandicoot: On the Run is officially out on Android & iOS today! 💕💗
Join Crash Bandicoot and his sister Coco on a mission to save the multiverse!
Think fast to keep Crash and Coco running, jumping, spinning and smashing in lanes loaded with obstacles. Speed through mysterious lands, defeating the henchmen of Dr. Neo Cortex.
Swipe to explore wild and exotic locations. Customize Crash and Coco with N.Sane Skins, build an arsenal of stupendous weapons, and hone those running skills for rewards.
Get ready for the run of a lifetime! 🏃‍♂️⏱
Legendary locations and infamous bosses! 👻🦍
A variety of running challenges await Bandicoot fans, both new and back for more!
The Wumpa Archipelago is vast, featuring classics such as Turtle Woods, Temple Ruins and The Great Gate to delight all Crash fans. Every adventure is a thrill ride, risking dangerous Sewer or Later or a dash through the perilous Snow Go Mountain.
Dr Neo Cortex has pulled from the multiverse Crash and Coco's most dangerous enemies: Nina Cortex, Dingodile, Dr N-Gin, Fake Crash & Coco, N. Trance plus many more old and new bosses are stealing Power Gems. It's up to Crash and Coco to stop them... You can watch a full cutscene HERE!
Also there's more stuff are waiting for you, Collection, Challenge & Gem Runs, Time Trials, Survival Run & many more... You can read some FAQs to help you around the game... HERE!
So let's see your excitement? 😍
Share your feeling around the game using any GIF you want or a image **even image from a Crash Universe** or just tell us what do you think in the comments & everyone who participates and posts their feelings above, will get this wonderful Global Launch Badge!
Play & enjoy the N. SANITY game... ✊
Also don't forget to react (Sweet 👍 - WOAH 🙂 - Love 💗) into my discussion! 🎶🎵
Let's see your sweetest comments...
See you in Wumpa Island... 💞
Comments