(ENDED) 📷 Caption Nina Cortex's picture for a chance to win Purple Crystals 😎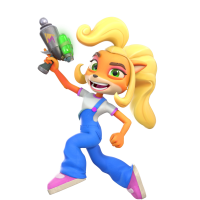 QueenMia
Posts: 12,928
Community Manager
🥭  Join us here in 2 seconds! 🥭
Hi Bandicoots 👋
Ready for some fun and extra Purple Crystals?! Let's go!
👉 All you need to do is Caption Nina Cortex's picture 👇👇
5 lucky winners will be randomly picked amongst those who voted and commented and receive 20 Purple Crystals each! 
🥭 How to participate?
Simply comment below with your own version of what would be the best caption for this picture! It can be anything, so you tell us! 
🥭 What's the prize?
5 players chosen randomly will receive 20 Purple Crystals each!
You have until the 26th of April to participate.
Good luck everyone and don't forget to have fun ✌️
Terms and Conditions here
No account yet?
Sign up here i
n 2 seconds!
Leave a Comment