Kudos to our very first Bandicoot of the Month (April 2021) - GetHanked 😎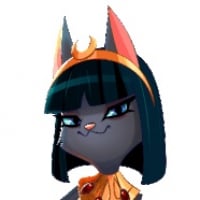 QueenMia
Posts: 12,981
Community Manager
🥭 No account yet? Join us here in 2 seconds! 🥭
Hi Bandicoots!
The Game Mods and I have chosen... Kudos to our very first Bandicoot of the Month... @GetHanked 🥳
@GetHanked has been bringing his helpfulness and positive attitude, engaging with all players and encouraging them to have fun! And for that, we believe he well deserved the title - Thank you so much and congratulations 😄
🥭 You have won:
The Bandicoot of the Month badge, a permanent entry in the Bandicoot Wall of Fame and 75 Purple Crystals!
And now let's all hear read what @GetHanked has to say 👇👇
🎙 Tell us a bit about yourself
Hi! Firstly I'd like to thank all the community moderators for choosing me for Bandicoot of the month, and putting on all the wonderful events for us Bandicoots! My name is Kevin, I have been playing Crash Bandicoot since it's release in 1996 for PlayStation one and ever since then I've never stopped crashing, I just remember playing for hours and hours until I collected everything and had 100% game completion, playing Crash bandicoot has brought me and millions of people hours of entertainment over the years and now with COTR will bring even more! In my spare time I like to go on long hikes and woodland walks, and be outside with nature. And when I'm indoors I play mobile games mainly just COTR at the moment.
🎙 What's your favourite Crash Game?
Hmm... that's a tough one but I have so many fond memories playing Crash Bandicoot 1 and after that I remember playing my siblings on Crash Team Racing and having so much fun playing it with them and now my favourite is COTR I love endless running games and this is the best one! And can't wait for future updates.
🎙 How long have you been playing COTR for?
Like many Crash fans I heard about the game long before it was released I tried to sign up for the beta version but think I was to late, so was eagerly waiting since last year, and finally was able to play on its release date I think IOS got it a few days earlier so about a month everyday 🤪
🎙 How did you find the COTR Community and what do I like most about it?
I found the community when I played COTR for first time and it prompts you to save your game, I had pre ordered the blue hyena skin and made a King account then, and I was having difficulties trying to sign in on COTR to save my game so I came here to ask what I was doing wrong, and that brings me to what I like most about the community, everyone is so friendly and helpful and they give so much without asking for anything back in return, is an inspiration to me to help others and be apart of something great.
🎙 If you could change anything about the Community, what would it be?
Honestly there's nothing on the top of my head I would change, I've only been here a short time and everything is run really well 😎
Thank you! and Happy Crashing Everyone 💥
And we thank YOU, @GetHanked, for being yourself and letting us share our time in the planet with you 🙏 😉 🥭
Comments