I think Clancy Brown might have snuck an Crash refrence in SpongeBob...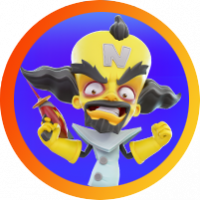 hanautaBOB
Posts: 587
Level 3
Well, in case you didn't know, before Lex Lang was the VA for Cortex, it was Clancy Brown.
He is not only an Actor but also a VA that has given many characters their Voice, including Mr. Krabs in SpongeBob SquarePants.
I'm on a Binge Watch of SpongeBob, watching a lot of Episodes in English for the first Time and I just think I heard Mr. Krabs say "Sweet Wumpa" while Rubbing Bank notes in his Face.
It's early SpongeBob (2000-2001), so it's around the Time he still was the Voice of Cortex...
So, unless there is a casual word that sounds very similar for Money, Cash or Bank Notes, I think this might have been a tiny Crash Easter Egg.
Hope I don't get disproven, but it didn't cone up when I searched for "Crash Bandicoot reference in SpongeBob"... I'd really like it better if it was a Crash Refrence, even if it was just in a throw away line that apparently no one paid attention to.
So yeah, hope I'm not wrong.
Leave a Comment