Multiverse island part 5 - lofty castle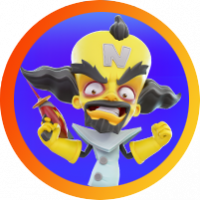 gustavopearl14
Posts: 44
Level 2
*High Castle:
Castle Elevated is one of the scenarios in the spyro game trilogy, and it could be a new scenario from the crash on the run! Well below I'll be talking about new objects, npcs, bands, routes and new playable characters that will be released in this scenario.
We start with the scenario description. in this scenario we will walk through the corridors and surroundings of the castle, having new obstacles such as jumping from chairs, dodging armor on the way, climbing stairs, jumping on trampolines and dodging wet floor warning signs and ironically do not run signs.
New Npcs, being birds and corridor monitors. And of course what matters most, two new bands of villains.
Começando com bando do gnasty gnorc: ele retorna novamente pra uma segunda luta e contratou novos capangas.
*Tikimon Inferno, N tropy baby Oxide, Noid Nitro e Brat nitro
And Evil Spyro Bunch: Evil Spyro has returned again and won't give up on dominating the multiverse anytime soon and has hired Henchmen worthy of two intentions.
 *Nitro Pink Elephant, Glacial Opossum, Tikimon Oxide and BratGirl Nitro
______________________________________________
*Dingodile:
In the fight against the evil spyro, he decides to fly around the school's outskirts, only he had a plan to blow up a piece of the school creating gigantic clatters, which crash can't jump and tawna says there's no place for her to hook the hook and then a dimensional crack appears and it's Dingodile, and then he joins the bandicoots and you run with him, because when you hold your finger on the screen he flats with his leaf blower and manages to jump very long, thus managing to Defeat the evil Spyro and then dingodile joins the team.
Now there is a team that has 4 members, and you can use the dingodile to defeat some bosses and in collecting phases, time trial and multiverse routes
Like the other Dingodiles, he has his basic skills, turning with the tail, jumping to the ground with the force of a belly, vacuuming boxes in front of him and gliding.
______________________________________________
*Routes:
 Gem route: You will get the green gem, in this jewel route you must reach the end of the race.
 *Challenge Route: In this route you must destroy all the evil spyro banners, around the school having a total of 23 banners, thus getting 20 Shiny Shells.
 *Multiversal route: you must choose between tawna and Dingodile, and pass the level without using aku akus, to do that you get 4 inverted jewels.
I hope you liked it 😁
Leave a Comment