Multiverse island part 6 - Bermugula's orbit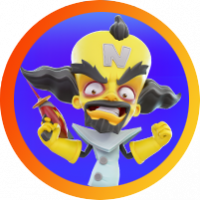 gustavopearl14
Posts: 44
Level 2
*Bermugula Orbit:
This will be the last scenario of the set of multiversal islands or 3rd island, in the orbit of Bermugula we will have new collision objects, Npc, Bandos, Routes and a new mechanics.
We start with the composition of scenarios and Npc. In this scenario we'll be at Nitros Oxide's space base, then we'll be in a space scenario, where we'll walk through the corridors of the ship where we can find purple leisures, hot pipes, slideways, parts with Ika-Ika and we can also find parasites in the corridors.
-Glide lanes: In these scenarios we'll have to slide from one platform to another, you jump on the "Pipe" and start sliding with three lanes and I try to break boxes and dodge Nitros and TNT's.
-Ika Ika: In these scenarios we have a stretch that we must invert between ceiling and floor, to avoid holes so we get the help of one of the Ika-Ika quantum masks.
-Obstacles: Leisures on the way, Parasites, Hot pipes, Holes, Slide bars and parts with Ika-Ika.
 -Band of Nitros Oxide: he came to test our speed again with his new band of Henchmen.
*Gasmoxian Mechanic, Geary, Ant Drone, Gasmoxian Incendiary
Fleece Emperor's Band: Fleece Emperor has come to prove his superiority over the earthlings, Crash must put an end to this monumental mouth.
*Zombot nitro, Mecânico Gasmoxiano Inferno, Mini robot Nitro, Zombot Oxide
Gang of N.tropy Famele: N.tropy came over the page again and invited some helpers for fun.
*Glacial Gasmoxian Incendiary, Noid Oxide, Dentate Nitro, Ee-eletric Inferno
Gang of N.trance: He came to fix the rift generator, but was interrupted by the Bandicoots. Who went through their henchmen:
*N.tropy Baby Inferno, Geary Glacial, Laboratorista Oxide and Zombot Nitro.
* Routes:
-Gem routes: You will now acquire the Yellow Gem, and To do this you must slide through the bars and explode all the nitros, and to do this you are invincible for an entire route, so don't leave any nitro behind.
-Challenge Route: You must reach the end of the course without losing your uka uka, so be careful and at the end you get 20 Fire Mushrooms.
-Multiversal route: You must Run to the end of the track, with the help of Ika-Ika you must intersperse between ceiling and floor to avoid falling into gigantic holes.
I hope you like my ideas, and I apologize for the writing errors because I'm Brazilian.Then the translator who is writing for me in English
Leave a Comment