Update Islands of Madness - Part 3| Laboratory of N.gin.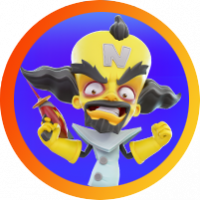 gustavopearl14
Posts: 44
Level 2
°N.gin laboratory°
✓Introduction:
After the Orient Express we are taken to the N.gin Lab, where we find 4 new battle bands. We run through the corridors of the lab where we see robot design, machine, some robot assistants, and pass a part where we see "crunch bandicoot" inside a capsule. And then we must face all the heads of the lab and leave.
✓Scenario Composition:
We ran through the corridors of the lab there, dodging objects along the way, such as iron boxes, robot remains, holes, leisures, climbing on treadmills and descending on pipes, and jumping over jumping iron boxes.
✓Npcs:
-Scanner robots: Robots that we can rotate to hit boxes.
-Laborator: who are writing on clipboards, and we can trip them up.
-Electrical robots: which may be with the mechanical tentacles electrified, and can hit them if they don't have the electricity activated.
- Cleaning robots: Same as those found in Boca de manhole.
✓Gangs:
Gang of N.gin: N.gin is in his lab and is being disturbed by the Bandicoots, so he calls his Henchmen to finish them off.
*Berserk Bomb Nitro, Zombot Inferno, Lab Assistant Oxide, Coco glacial robot
Bando do N.brio Robot: we found one more anomaly in this area, so let's defeat him before reality is weakened. But first let's defeat his henchmen.
*Bebe N.cortex glacial, Crash robot glacial, Bebe n.tropy oxide and Fake nina Cortex hell.
Dingodila Gang: A female version of Dingodile appears, clearly another anomaly and still armed with a hose? She is literally the opposite of the Dingodile we know. Her Henchmen are:
*Baby Tiny Tiger, Coco robot Inferno, Baby N.tropy hell and Fake Cortex Glacial.
Gang of N.cortex: N.cortex is back only this time with something different, he is using a robot being charged with the power of the 4 elemental masks, so now crash must defeat N.cortex and N's new experiment. gin, The elemental Titan Your henchmen are:
*Evil Lani-loli, Evil kupuna-wa, Evil Aku-Aku and Fake nina Cortex Nitro.
✓What Happens When Defeating This Special Boss?
-When we defeat the elemental Tita, there is a cutscene, where cortex wonders how he could have been defeated 4x and even with the 4 elemental masks together he managed to lose. So a holographic projection of another Cortex appears? Saying that the reason he always loses is that he thinks too small he says that he has another plan now and that he is not part of it, dispensing with our Cortex. And Cortex gets angry, saying he's going to defeat that smart-ass Cortex. So he asks the bandicoots that he can join the team. Of course Cortex accepts, And now the team has one more member, now being Crash, Coco, Tawna, Dingodile and Cortex
✓What happens to Cortex after he is recruited?
-They arrive at the base, and then Cortex says that with N.brio's new experiments, their weapons will be no match for the new N.brio, and he says he has an idea. He will develop a new type of weapon to defeat the "Missile" bosses.
✓How to unlock the Missiles?
All worlds are given new routes, the "Intelligence" routes. in these routes we must run with Cortex, he travels through the worlds acquiring parts that in the end with all of them, at the base we release the Laboratory Do N.cortex. Where now we make Missiles to defeat the bosses.
✓How do Intelligence routes work?
Intelligence routes are routes where you must reach the end of the route, but they are more difficult routes than usual, after we go through each scenario and recover the 19 pieces, we can start collecting ingredients to make the Missiles
✓What will be the missile's ingredients?
We will use 3 ingredients, Bumpas, Wumpas and Nitro Essence, these specific ingredients we only collect in one place, in the Academy of Evil.
✓In short:
We defeat Cortex, so he is betrayed by the original Cortex from another dimension who created the plans, and so he decides to get revenge. He joins the Bandicoots and together they go in search of making Missiles with the help of Cortex to defeat stronger bosses, for that we play in Intelligence routes with Cortex and create his laboratory, and then we start to collect the ingredients for the missiles that are located already evil academy.
✓Description of Henchmen:
* Berserk Bomb: Berserk Bomb is one of N.gin's servants in Crash 4, he reappeared here to help his master, his attacks are to keep throwing bombs at you, you must dodge where the bombs will fall and defeat him.
*Baby N.tropy: An extremely cute baby, but he's evil so he needs to be Defeated, he's holding N.tropy's fork but it's too big for him, so he starts shooting with his fork, with more difficulty. succeeding, then dodge the shots to defeat the Little Tropy.
*Baby Tiny Tiger: Another baby, but this one a bit wilder, he grabs tridents and throws in your direction, dodge all the tridents and defeat another baby, although it seems a little mean to defeat babies.
*Evil Lani-loli: The 10th dimensional Lani-loli has appeared, and that's the evil version! There are hundreds of iron box walls up to it, which keep appearing and disappearing, dodge all the boxes and defeat this mask.
*Evil kupuna-wa: Evil kupuna-wa is throwing rocks at you, only some are going extremely fast and some are slow, so be quick and dodge all of them and defeat the mask that is messing up time.
*Evil Aku-Aku: Our dear friend has an evil version, we must dodge all the fireballs in our direction and defeat this faker.
✓Description of Heads:
*N.brio robot: N.brio robot has its attacks being, throwing explosive potions on the ground, throwing leisure from your eyes, throwing potions on the ground that create nitro goo on the ground and shooting a pistol.
* Dongodila: She uses a hose as a weapon, she throws water jets in her direction, Water Balls too and creates puddles on the ground.
*Elemental Titan: He uses the power of the four masks in addition to the cortex. He throws water bubbles, creates earth barriers in front of you, Launches wind waves and creates fire obstacles, besides shooting with leisure and disintegrating pistol, a highly dangerous boss, so you have to be very careful.
✓Routes:
*Gem Route: Let's get the green gem, for that you must pass the level without killing any Npc.
*Challenge Route: Break all the crates, and then acquire 5 Nitro essences.
*Multiversal route: Complete the level without dying, you can now choose between Tawna, Dingodile and Cortex. And get 5 inverted gems.
*Fragmented Route: You must complete the route in the "Inverted Colors" effect. And get a Bazooka hell.
*Intelligence Route: Complete the course with Cortex and Acquire Parts to improve Cortex's Missile Lab.
Leave a Comment