Cortex Power Island update - Cortex Power | Part 2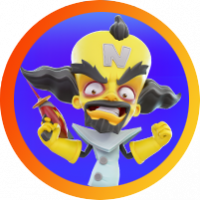 gustavopearl14
Posts: 44
Level 2
✓Cortex Power:
We enter Cortex's power source, and we're walking down the halls to find Pinkstripe who is with one of the Fragments of Calamity, these fragments having the concept of "Multiplication".
✓Scenario Description:
We ran through the corridors, and being careful not to fall into acid holes, dodge flying robots, shock waves that go from one place to another, and also normal robots.
✓Description of the Fund:
In the background we see the energy towers, energy sources, doors and danger warning.
✓Npcs:
*Flying robot: We found these robots gliding between us holes, in Crash bandicoot 1, here we find them flying by sight, being able to deflect the jump on top of them.
*Normal Robots: We found robots in the Original Cortex Power stage, which we managed to spin, here we'll find them on the track and we'll be able to spin or trip them.
✓Gang: In Cortex Power we find Koala Kong Oxide, Fake Crash Hell and Pinkstripe Glacial.
*Koala Kong oxide: He is now helping Pinkstripe hide his Fragment, defeat him and his Henchmen and reach Pinkstripe.
 -Glacial Pink Elephant, Glacial Opossum, Geary Oxide and Bat Nitro.
*Fake Crash Inferno: Here we find the Fake Crash that is getting in your way, defeat him and his friends and then reach Pinkstripe.
-Geary Oxide, Zombot Inferno, Mini-Robot Nitro and Ee-electric Glacial.
*Glacial Pinkstripe + Multiplication Fragment: Pinkstripe has Fragment preparing for further attack before go past his Henchmen.
-Barrel launchers Nitro, Dentate Nitro, Shooter Nitro and Opossum Nitro.
✓Description Henchmen:
-Barrel Launcher: We found this enemy in Crash 1 in Toxic Waste stage, he is here launching barrels towards him, dodge everyone and defeat him.
-Sniper: He is one of Pinkstripe's Henchmen that appears in the Cortex Power stage, he is here shooting in your direction, run in the right lane and dodge the shots.
✓Description Heads:
-Glacial Pinkstripe + Fragment of multiplication: He already starts cloning his weapon, shooting twice as much. And also while placing the barrels on the track he creates copies to shoot and drop bombs along the way. A challenging boss with quick attacks.
✓What do we do with the Fragment of Multiplication after victory?
We started to piece together the Crystal of power, Joined the one of protection with the one of multiplication and stored it in the containment chamber.
✓Routes:
*Gem Route: We must destroy all robots in the level and then acquire the Red Gem.
*Challenge Route: Pass the level without breaking Nitro crates, then earn a reward.
*Multiversal route: Pass this stage with Dingodile or Tawna without using their special abilities. And get 3 inverted gems.
*Intelligence Route: Blow up all the nitro in the level with Cortex and then get 4 lab pieces.
*Intensive Route: Crash all the crates with Crunch and get 3 Hell Pistols.
Leave a Comment