Cortex Power Island - Part 3 | Light's out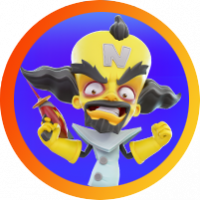 gustavopearl14
Posts: 44
Level 2
Light's out
✓Introduction:
We went up by Cortex Power after recovering the Fragment of the multiplication, and now we are in the Castle of Cortex, behind the Fragment of Creation that is with N.brio (the normal) Inferno.
✓Scenario Description:
We're running through the dark corridors, being lit by some torches, it's hard to get in as the lights are off, we find platforms walking in holes that we can climb and run over them, Spears and stakes in the ground and spiders in the way. besides we find rats that we can nitro and robotic rats that we must dodge.
* In the background:
We see pictures of Cortex relatives, statues of the cortex and his family, and medieval castle scenery.
✓Npcs:
*Mouse : Normal mice that can spin or trip them to hit Nitros and TNT's.
*Robot Mouse: Lab-modified mice that we can only jump on to kill.
✓flocks:
Here we find N.brio and 3 other bosses. They are Evil Crash Glacial, Fake Coco Hell and N.gin Inferno.
*Evil Crash Glacial: A 10th dimensional villain is around, send him back to your dimension. Along with his henchmen:
-Goar Inferno, Ee-eletric Oxide, Annoying Inferno and Glacial Tikimon.
**Fake Coco Inferno: Did we find coconuts on the way? Wait, it's Fake Coco, let's get her out of our way. And his henchmen from the castle.
-Zombot Glacial, Noid Glacial, Geary Glacial and Oxide Oxide.
*N.gin hell: He appeared with his Henchmen, defeat them all and get him out of your way.
-Berserk Bomb Oxide, Zombot Oxide, Glacial Barserk Bomb and Zombot Nitro.
*N.brio Inferno: We finally arrived at it, along with the Fragment of creation, but first we have to defeat its assistants.
-Assistant Nitro Grenadier, Assistant Nitro Crusher, Oxide Laboratory and Electro Laboratorista.
✓Description of Henchmen:
*Assistant Grenadier: We saw this Assistant in Crash 4, helping Cortex in the final battle, he now returns as a mini boss where you must dodge his bazooka fire and then defeat him.
* Crusher Wizard: We see this wizard, in Cortex's castle stage in Crash 4, here she has become a mini boss and comes speeding on her flying board towards her. You must dodge her advances and then defeat her.
✓Description of Heads:
*N.brio + Fragment of creation: This becomes a very difficult fight by the attacks of N.brio, this boss has 18 life points and he will attack according to the stages of life.
1st stage he is normal throwing green and purple potions in your direction, after you take 3 points from them he activates the Fragment and the monster N.brio will come which throws stones and drops stones in our path. After doing 5 attacks he activates the Fragment again and the twinsanity monster will come, he then jumps on the lane giving bellies with the fall and sliding towards you occupying 2 lanes and then after taking 5 more damage, he activates the Fragment for the last time and his reptilian wrath will come, and then he starts flying and throwing explosive Bumpas and potions in your direction. Then land 5 more hits on him and defeat him and then you recover the Fragment of creation.
✓What do we do with the Fragment of Creation?
Coco keeps it together with the others, and now we have 3 Fragments of Calamity, Protection, Multiplication and Creation. And we've already located the next Fragment, the Submission Fragment located with a Cortex from the multiverse. Not being our Cortex.
✓Routes:
*Gem: You must reach the end of the level and get the green gem.
*Challenge: Break all the boxes and get a great prize.
*Multiversal route: Complete the course without blasting Nitros and then get 4 inverted gems.
*Intelligence route: Complete the route with Cortex without breaking any boxes and then get 3 lab pieces.
*Intensive route: Complete the route with Crunch acquiring all aku-aku and then get 2 oxide pistols.
Hope you had a good read 😁
Leave a Comment