Cortex Power Island update - Part 4 | High Airship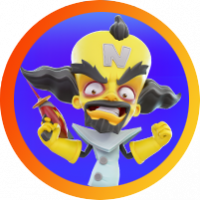 gustavopearl14
Posts: 44
Level 2
✓Description:
From Cortex's castle we climb into his airship, and we're walking inside the airship, being a place full of boxes, assistants and robots. Having suitcases in our way, organizing robots, holes being able to see the clouds and assistants standing in the way.
*In the background:
We saw boxes and the bottom of the airship, as well as computer screens with graphics and footage by Cortex.
✓Npcs:
*Organizing robots: Robots that are organizing, we can trip and spin them. Just never jump on their heads.
*Stop assistants: They're holding clipboards making charts, take advantage of the gap and toss them into TNT's and Nitros.
✓Gangs: In the airship we find some bosses being them, Evil Coco Inferno, Fake Coco Inferno and Cortex nitro + Submission Fragment.
*Evil coco Inferno: We found her inside the airship, send her back to your dimension along with your Henchmen:
-Assistant Grenadier Inferno, Assistant Glacial Crusher, Laboratorist Nitro and Zombot Nitro.
*Fake coco Oxide: She came back again? Let's show her the bandicoot power. Earlier she defeats the Henchmen.
-Electrolaborator, Inferno Crusher Assistant, Geary Nitro and Glacial Opossum.
*Cortex Nitro + Fragment of Submission: We found the Cortex of Crash of the mutants, using the Fragment of Submission to control several allies Being them Fake Crash, Fake Coco, Evil Coco and Evil Crash. And even brought in Henchmen so deal with them first.
-Zombot Glacial, Noid Oxide, Geary Nitro, Nitro Pink Elephant
✓Description of Heads:
*Evil Coco: Your attacks could be based on your whip. where she could hit the whip on the ground and damage the terrain to not be able to walk on certain pieces, spin at high speed with the whip and launch energy waves with the spin, if high heal and launch the whip spinning towards us, having to dodge where she's coming from.
*Cortex Twinsanity+ Fragment of Submission: In this boss Cortex uses the Fragment's power to control minds, he is therefore controlling Evil crash, evil coco, also Fake coco and Fake Crash.
Cortex here has 20 life, and every 5 attacks he changes the bandicoot that attacks. Starting with Fake crash attacking, after hitting 5 fruits on it, it switches to Evil Coco attacking, after hitting 5 more fruits on it, we switch to Fake Coco, we hit 5 fruits on it and then at the end it switches to Evil crash, after hitting 5 attacks on it we can pick up the Fragment of Submission and defeat Cortex.
✓Routes:
*Jewel Route: Here we'll get the yellow gem, then destroy all the wizards along the way and at the end get your gem.
*Multiversal Route: Run with Dingodile or Tawna and get all the aku-akus in the level and then get 4 inverted gems.
*Challenge route: Destroy all the boxes in the level and get a nice reward.
*Intelligence Route: Complete the path with Cortex and then get 3 lab pieces.
*Intensive Route: Complete the route with Crunch and break all the boxes and then get 2 oxide pistols.
I hope you had a good read 😁
Leave a Comment