Crash on the run achievements | part 1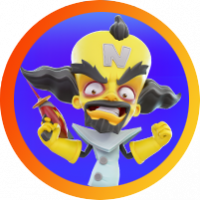 gustavopearl14
Posts: 44
Level 2
Description:
Well crash on the run is a game with a lot of bosses, story and challenges. And to add we could have achievements like other games, where we log in with google play games and get some achievements as we reset the game.
In this first part I will only be giving suggestions of 50 achievements, after this publication I will arrange them in order from the second part.
1st trophy: warming up
-Beat your first henchman.
2nd Trophy: Jumangi
- Take a collecting tour in the Tortoise Forest.
3rd Trophy: Upgrade
-I unlocked the Nitro Bomb.
4th Trophy: Gorilla Tamer.
- Beat Scorporilla.
5th Trophy: My need.
- Get 5 Power Gems.
6th Trophy: Insect Life.
- Defeat Ant Drone.
7th Trophy: Crab soup.
- Defeat crab.
8th Trophy: Crash 1
- Unlock Lost city.
9th Trophy: Icy Heart.
- Make a glacial potion.
10th trophy: N.brio Weak.
- Defeat N.brio.
11th Trophy: Valley of Oblivion.
 - Defeat Pink Elephant.
 12th Trophy: Tense Future.
 - Defeat Mini Robot.
13th trophy: It's alive.
 - Defeat the Lab.
14th trophy: No more Checkpoint.
- Defeat iron box.
 15th Trophy: God of thunder?
- Defeat the Electrolaborator.
 16th Trophy: Turtle Speed.
 - Defeat Zombot.
17th Trophy: Delicate as a rose.
- Defeat the Thorny.
 18th Trophy: Was this an earthquake?
- Defeat Rok-ko.
19th trophy: Poseidon
- Defeat Wa-wa
 20th Trophy: Hotter than the Sun
 - Defeat Py-ro.
21st Trophy: Rage of the Winds.
- Defeat Lo-Lo.
22nd Trophy: Is it a vacuum cleaner?
- Defeat Geary.
23rd Trophy: Noid, Rabbit
- Defeat Noid
24th Trophy: Walked the board.
- Defeat Sharkbite.
25th Trophy: The Mummy.
- Defeat Grumbler.
26th Trophy: Call the Firemen
- Defeat Dingodile.
27th Trophy: Inverted World.
- Defeat Fake Crash.
28th Trophy: Taking candy from a child.
- Defeat Nina Cortex.
29th Trophy: Bandicoot Terminator.
- Defeat Robot N.cortex.
30th Trophy: Fifty time.
- Defeat N.cortex
31st Trophy: Hexa time.
- Defeat Glacial N.cortex.
32nd Trophy: Seventh time.
- Defeat N.cortex Inferno.
33rd Trophy: The past condemns me.
- Defeat N.cortex Oxide.
34th Trophy: Cutting evil in the bud.
- Defeat Uka-Uka.
35th Trophy: Lion Tamer.
- Defeat Tiny Tiger.
36th Trophy: Us.
- Defeat Fake Coco.
37th Trophy: Timekiller.
- Defeat N.tropy Female.
38th Trophy: Bandicoot Power.
- Defeat Dark spyro.
39th Trophy: Sherek?
-Defeat Gnasty Gnorc.
40th Trophy: My beautiful creation.
-Defeat N.gin.
41st Trophy: Monsterverse
- Defeat Koala Kong
42nd Trophy: Faster than light.
- Defeat Nitros Oxide.
43rd Trophy: Ratatouille
- Defeat Pinkstripe Potorro.
44th Indiana Jones
-Jump over a rolling rock.
45th Trophy: 1, 2, 3
-Run a TNT's.
46th Trophy: Sleeping with the angels.
- Get killed by a Nitro.
47th trophy: Penta penguin
- Jump on a penguin.
48th Trophy: Pharaoh's Fury.
- Get caught by a mummy.
49th Trophy: When the fish fly.
- Hit a fish in midair.
50th Trophy: Plant vs Bandicoots
- crush a carnivorous plant.
These are just a few trophies based on famous series and movies. Besides being puns with phrases from characters from the crash universe.
Leave a Comment