Spectacular Islands of the N'gin - garbage desert | Part 1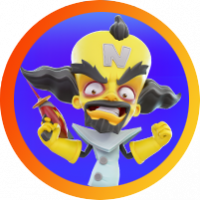 gustavopearl14
Posts: 44
Level 2
✓Introduction:
We retrieved the 4 Chaos Fragments found on Cortex Island, they are with the powers of Protection with Ripper Roo, Multiplication with Pinkstripe, Creation with N.Brio and Submission with Cortex. . And then Cortex tracks down 4 more Calamity Fragments Found in the 7th dimension on N'gin's spectacular island.
And then we go to this island and start with the first Scenario. Garbage Desert:
✓Garbage Desert: We ran through this scene over sand and metal floors, having to dodge holes with sand sharks, jump over falling barrels, having to take several jumps then climb floating platforms and watch out for thorns on the ground , cactuses and some new Npcs like Retainers with Fire Helmets and Retainers with Saws.
✓Npcs:
-Lackeys with Fire Hats: We found these enemies in Crash 4, they are in Crashtsando stage and Falling on the road, they can't jump on top or creep, having to do the same here. DON'T JUMP ON THEM.
-Lackeys with Saws: We find them in almost all stages of the Trash Desert, they are "Crashtsando, Sliding for real, Falling on the road and etc."
In the background:
In the background: We see more of the Garbage Desert, with a cliff bottom we walked on in Crash 4 plus sharks jumping in the background and Holograms from the N'gin and the Mechmaker show.
✓Bandos: In this scenario we find the chop Shop Oxide with the Fragment of Exaltation, and the Komodo Glacial Brothers.
-Chop-Shop Oxide + Exaltation Fragment: We have found N.gin's most loyal servant with one of the Calamity Fragments, so we must retrieve the Fragment and defeat his henchmen:
*Barserk Bomb Nitro, Sand Shark Nitro, Zombot Glacial and Geary Inferno.
-Glacial komodo brothers: The Komodos are back, now in the future so let's defeat these "dragons" and send them back to the right time. His henchmen are:
*Nitro Bit, Glacial Sand Shark, Berserk Bomb Inferno and Nitro Pink Elephant.
✓Description of Henchmen:
-Sand Shark: An order of sharks sees jumping in the sand towards you, get out of their way to avoid being eaten and reach the teleporter at the end of the level. (Their attacks are the same as in Crash 4, we have 3 lanes to run and they see them swimming in the sand and jumping in 2 or 1, we must just dodge and reach the end).
✓Description of Heads:
*Chop-Shop Oxide + Fragment of Exaltation: He already has his attacks based on his chainsaw, he throws waves of electricity with them and damages the terrain of the tracks so we can't run on some of them, and with the Fragment he can throw a lot more electric waves, now being purple electric waves and also creating bubbles that repel the berries and shipments back and by throwing it recovers 1 health point.
✓Routes:
-Gem Route: Reach the end of the route without breaking any box and get the blue gem.
-Challenge route: Break all the boxes and get a good reward.
-Multiversal route: Complete the route with Dingodile or Tawna, blowing up all TNT's and get 4 inverted Gems.
-Intelligence Route: Complete the Challenge with Cortex and Acquire more lab parts.
-Intensive route: Break all heavy boxes with Crunch and get 4 oxide bombs.
I hope you like it😁, Sorry for the English mistakes. I wrote in Portuguese and just went to English through Google translator
Leave a Comment