Spectacular Island of N'gin - falling on the road | part 2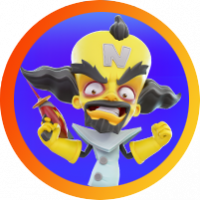 gustavopearl14
Posts: 44
Level 2
✓Description:
We pass through the waste desert and keep going, and then we're running down the desert waste road that we saw in crash phase 4, "Falling into the road". In this scenario we are after Rusty Walrus Glacial + Fragment of Illusion. So let's run through this destroyed road and reach Rusty walrus more before we need to defeat 2 other bosses being them N.trance Inferno and Dingodile Nitro Lvl 10.
-In the background:
As we run we see in the background, more of the garbage desert at dusk, other roads and bridges scattered across the apocalypse background.
✓Npcs:
-We meet Fire-helmed Lackeys, which we encountered during the Original stage in Crash 4.
✓flocks:
-N.trance hell: He came straight from Bermugula's orbit over here, and this time more surly and with more powerful Henchmen being all Lvl 10: Geary Hell, Zombot Nitro, Mini Robot Glacial and Geary Nitro.
-Dingodile Nitro: We haven't seen him for a long time, only he came to prove he's the strongest mutant, and so here we're going to face the first Lvl 10 boss, he being Dingodile. And we also found some Henchmen but all of them are Lvl 5: Opossum Nitro, Nitro Pink Elephant, Ant Drone Oxide and Glacial Arachnid.
-Rusty walrus Glacial + Fragment of Illusion: We've found N.gin's cook, let's finish preparations for the show and retrieve the Fragment of Illusion. But first we have to defeat some sharks on the way:
Oxide Bite, Hell Sand Shark, Glacial Bite and Glacial Sand Shark.
✓Boss Description:
-N.trance Inferno: his attacks are based on his hypnosis skills, he shoots hypnotic waves towards you then dodges them and sends mentally controlled zombots towards him.
-Rusty Walrus Glacial + Fragment of Illusion: We have Rusty's standard attacks, such as throwing meat knives at him, throwing hot soup on the track and bouncing ice barriers from the ground that we have to dodge, the functionality of Fragment of Illusion is that his attacks are always on the 3 lanes, you must go through the lanes that have the illusions. If the illusions are a little clearer, then run through the light attacks so you don't get hit by the real ones and then defeat Rusty walrus and retrieve the Shard.
✓Routes:
*Gem Route: Complete the course without dying once and then get the blue gem.
*Challenge Route: Complete the challenge by breaking all the boxes and then get a nice reward.
*Multiversal route: Complete the route with Tawna or Dingodile and then acquire 5 inverted gems.
*Intelligence Route: Complete the route by blasting all the nitros with Cortex and then get 3 lab pieces.
*Intensive Route: Break all heavy crates with Crunch and get 5 nitro bazookas.
I hope you like it and again I apologize for the grammar mistakes, it was the translator who switched to English for me...
Leave a Comment