Spectacular Island of N'gin - Sphynxinator - Part 3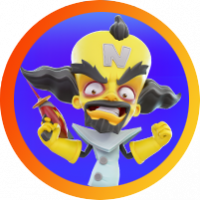 gustavopearl14
Posts: 44
Level 2
✓Description:
We got off the roads and found a temple, which we originally saw in Crash 3, we ran through the pyramid corridors and found Uka-Uka, not just 1 Fragment plus 2 being the Emotion Fragment and the Transmission Fragment. Run towards him more before defeating the other bosses being Tiny Tiger Oxide and Uka-Uka Titan Nitro.
✓In the background: As we run in the background, we see Egyptian drawings and writings, as well as holes, thorns in the walls, and thorns sticking out of the ground. We also run through muddy slippery parts and must jump from blocks that come our way and to make even more dangerous light traps, so don't run through boxes of it to avoid getting hit by a poison dart.
✓Npcs:
Wizard with flamethrower: Dodge these wizards to not become barbecue.
Snakes: Spin or trip them to hit Nitros, TNT's and crates in front of you.
Monkeys: Dodge the fruits thrown at you by the monkeys and then rotate it to hit boxes ahead.
flocks:
-Tiny Tiger Oxide: We found Tiny Tiger through the pyramid corridors he's helping Uka-Uka, let's defeat this feline and his henchmen too:
*Assistant Oxide Crusher, Assistant Grenadier Nitro, Assistant Glacial Lever and Grumbler Nitro.
-Uka-Uka Titan Nitro: Straight from Crash Mutants, We found Titan hiding in this dark pyramid, let's take care of this Mutant and get him out of our way. Henchmen:
-Grumbler Oxide, Grumbler Inferno, Lever Assistant Nitro and Ee-eletric Nitro.
Uka-Uka + Fragment of Transmission + Fragment of Emotion: We've finally reached Uka-uka and he's using the Fragment of Transmission to amplify the Elementals' powers. So first we must face the Lvl 7 Elementals with their increased powers.
✓Description of Henchmen:
*Lever Wizard: We found them originally in Crash 3, but now they're here lowering the levers and rocking towards you, dodge the rocks and Defeat him.
*Elementals: Now they all have their powers increased by Transmission Fragment, they now attack 3x faster dodge everything and defeat these masks before they become bosses.
✓Description of Heads:
*Titan Uka-Uka: We found this freak in the pyramid, a scary and powerful Titan. He creates plant barriers, holes, thorns grow from the ground, throws rocks, can eye leisure and throws fireballs. Time beware of this Titan with 22 hit points.
*Uka-Uka + Fragment of Transmission and Fragment of Emotion: Uka uka uses Fragment to create an equal body of ice in the twinsanity crash. In addition to having his normal abilities like fireballs, leisure eyes and barriers, he also throws snowballs, creates ice spikes on the ground. Quite a challenge can you win?
✓Routes:
Gem Route: Shall we acquire the green gem? Kill all mummies and retrieve the green gem.
Challenge route: Pass the challenge without pressing any buttons and get a nice prize.
Multiversal route: Run through these catacombs with Dingodile and don't fall into the holes and then get 4 inverted gems.
Intelligence Route: Blow up all nitros and get 7 lab pieces.
Intensive Route: Break all heavy crates with Crunch and get 4 Glacias bazookas.
Leave a Comment