N'gin's Spectacular Island - Breaking into the show | Part 4 (Final)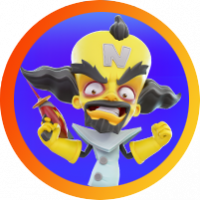 gustavopearl14
Posts: 44
Level 2
edited November 2021
in Ideas
✓Description:
We arrive at the 2nd Mechaleiro Show, we're running around the stage, we see the mechaleiro playing and the audience dancing and enjoying the music, we jump over equipment, dodge lackeys and avoid holes, for this crowd of fans.
What we see in the background:
We see the mecheiro playing, fireworks, fans admiring the show, speakers and stage lights.
✓Scenario Composition:
We raced across the stage avoiding holes and fire traps, dodging Retainers and speakers and sound.
✓Npcs:
-Cleaning robots: Same as Manhole mouth.
-Lackeys: the same as in Garbage Desert.
✓flocks:
Here we find 2 bosses Nina Cortex Nitro and N.gin + Elementary + Fragment of Perfection.
-Nina Cortex Nitro: We found Cortex's niece watching the show, and then we're sending her back home. Earlier we'll defeat her henchmen, Zombot Nitro, Zombot Glacial, Zombot Inferno, Zombot Oxide all being Lvl 8.
-N.gin Oxide + Elementals + Fragment of Perfection: We found another robot from N'gin, using the Elementals as a power source and having their elemental powers increased by the Fragment of Perfection that controls the 4 elements. Beware of this boss who is elemental fury Itself.His henchmen are: Barskbomb Nitro, Barskbomb Glacial, Inferno Sand Shark and Oxide Sand Shark all of them Lvl 7.
✓Description of Heads:
- N.gin Oxide + Elementals + Fragment of Perfection: N.gin is with the same robot as Crash 2, more tuned with the 4 elementals as energy sources, managing to launch attacks such as: Fireballs, Water Waves, Tornadoes of wind, Stone walls in the way, Lightning falling from the sky, Ice spikes coming out of the ground, firing missiles and hurling Lazers. And to top it off, he has the Fragment Of Perfection, which controls the elements making attacks much faster and stronger. To balance the fight we received help from Kupuna-Wa, now Defeat this threat and retrieve the 9th Fragment of Calamity.
✓Routes:
*Gem Route: Finish the route by collecting all the wumpas and get the yellow gem.
*Challenge Route: Complete the challenge without breaking any boxes and then get a good reward.
*Multiversal route: Break all speakers with Dingodile or Tawna, then get 8 inverted gems.
*Intelligence Route: Blow up all nitros and get 5 lab pieces.
*Intensive Route: Break all heavy crates with Crunch and then get 3 Oxide Pistols.
Leave a Comment