Get to know our Mods - Mightywolf 🐺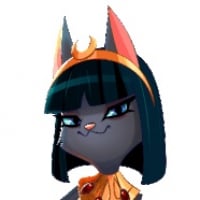 QueenMia
Posts: 12,982
Community Manager
🥭 No account yet? Join us here in 2 seconds! 🥭
Hi Bandicoots!

You probably have seen his name, or even spoken to him, @MightyWolf is one of our Mods here in the COTR Community - We've given him the mic, so you can learn a bit more about him. Feel free to share about yourself and ask all your question to our wolf in comments below 👇
🎙 Tell us a bit about yourself
I'm Mighty Canis Lupus - The King of the Wolves, you can call me Seifallah if you want. I'm living in Tunisia, and i'm at 19 years old. I'm also a big Crash Bandicoot fan from the 2000s and a big King fan of all time!
I'm spending my whole life learning, being with family, praying for the creator of the whole universe and for now i've spend my free time doing a lot of creative stuff for the community in general and for myself!
🎙 What level have you reached/What's your best achievement in Crash On the Run?
Obviously, my best achievement in Crash On the Run will be completing the entire game including getting all relics and coloured gems! 💖
🎙 What's your favourite thing about Crash On the Run?
That's great question! Well the whole game is my favourite because it is a lot different compared to the other endless runner games which they are super boring, the game has a lot of stuff that you can do, you play missions, challenges, time trials and even Survival Runs, also don't forget that there's a Collection Run and also skins with bunch of bonuses... I'm really love this game! 🤗
🎙 What motivated you to become a COTR Moderator? And what do you like about being a Moderator?
The two things that let me become a moderator is helping players with a right informations from the studio, creating bunch of creative things, that's what i like. However being a moderator is not easy at all but with some learnings i think the role will be much easier than you think! 🤗
To be honest with you bandicoots, you might ask why I'm not that active these days, because i'm working so hard to create new contest and make some tips and guides of the game for you, so stay tuned... 👋
🎙 What's your favourite thing about the COTR Community?
Alright I like the players out there that they have a lot of creativities and especially the ideas and oh my god, those ideas are very special and unique for being implemented in this game and that's my favourite thing about Crash On the Run Community!
🎙 Are you playing any other King games than COTR and if yes, which one is your fav?
Yes, i've been playing all King games, including the games from the good ol' days website which is called now as Royal Games!
My favourite King game is Candy Crush Friends Saga, it is much sweeter than any other Candy Crush games out there with a whole new features and delicious new 3D characters designs, i'm still playing the game with Candy Crush Saga these days and i can't wait for the new King games to popping up because they will be more excited than Crash On the Run even and I'll growing myself up with the company!
I don't want to talk about Legend of Solgard **Developed by Snowprint Studios** since it is a no longer a King game but back then it is the best King game i've ever played and I'll not forget about it until death and that's where i've naming myself as MightyWolf! 🐺💖
🎙 What's your best memory with King games? And on the Community?
The best memory of all time with King games of all time, when back on 2014, I'm playing Candy Crush Saga and on the main map screen i've seen a little lady comes in no where, i thought it will be included as a new feature or new improvements for the game but it turns out it's a whole brand new game Candy Crush Soda Saga, i've got super happy and excited for this game and when it comes, oh my goodness, it's so much addictive and sweeter than Candy Crush Saga. That good ol' days!
My best memory with King Community, when i've released my first ever contest for Candy Crush Friends players which is Scrapbook Contest, everyone shares their screenshots of how much character they have in their scrapbook so they can earn community.badges!
🎙 If you could change anything about King (games, community, etc), what would it be?
If i could change about King games, i'll add a Support Creator Code feature for Game Mods and for YouTubers especially for Crash On the Run and about the community, i'll add an opportunity to us invite players into our friend list of our accounts, that might be cool, right?
🎙 How did you find about the Community?
I know about the community since 2015 while it called King Care but i don't understand the concept of the site so i don't want to join BUT... 👇
Alright back in October 5th 2018, when Candy Crush Friends Saga is officially announced, i've update the game to the latest version and I've seen a huge bug on it and well as i want to go to the settings of the game just to talk with the Support team and the magic happens, i've seen a button that I thought that it's gonna be a global chat feature, but it reaches me to King Community, well the site is just on testing phase but i decided to report the bug from there beck in the day but I've seen that there's a lot of fun discussions and contest that let me stick here until i get myself loved the site and that's how i've joined the community and in that time, i've start doing some ideas for Candy Crush Friends and helping players, that's how i've became here!
🎙 Anything else you'd like to share?
I want to say THANK YOU to the community team behind the scenes, all community managers and also the developers behind this amazing game. Also in the end, I'll thank everyone for playing Crash Bandicoot: On the Run! 💌💞
Bandicoots, have fun, stay engaged, and safe! 💪
Thanks a lot for a great interview, @MightyWolf!
Stay tuned everyone as we'll be sharing @W35Gamer's interview next week! For now, see you around the Community and don't forget to have fun ✌️
Leave a Comment