My weird Experience Battling the new N.Tropy Gang 😅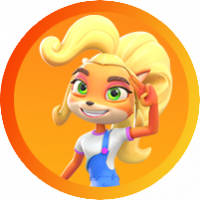 Adrenaline
Posts: 329
Level 3
So I tried battling N.Tropy's henchmen. It went well, got some good trophies and also had fun.
After that I finally had the chance to Battle N.Trophy herself.
She Healed some of her HP when she did the Chronos Shield ;-; (I died right after I took this screenshot...)
But then anyways, I defeated her in my second battle. Lol
I tried looking into the Mission Computer, She IS defeated, but why can I still battle her? ;-; wutt 🤔
After that I tried clicking the "BATTLE" and went to the track. It was weird when I noticed that the track was different from her actual battle map, the floating time gears where gone, and it looked like a normal battle run, BUT THEN, I encountered this...
Zombie Robots??? 🤯😰😦🤔
I didn't get anything after that battle, no trophies, no wumpas, no exp, no steps. Back to the base, THIS happens:
Actually, I'm impressed. 😅 I never thought I'd experience a glitch first hand, just right after playing the new season. Well anyways, no harm done, except that I lost those Portal Weapons for no reason. 😅😐😨😭
Leave a Comment