Update- Island Madness: evil academy | Part 3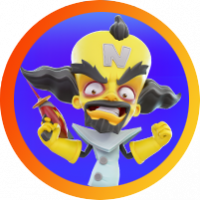 gustavopearl14
Posts: 44
Level 2
Evil Academy:
✓Introduction:
With the help of n.cortex on the team, Coco manages to locate N.brio instead of following the anomalies. he is in the academy of evil, where our scientists graduated, of course this place is a great challenge full of villains and henchmen, we must climb the academy corridors until we find N.brio.
✓Scenario Description:
We are running through the corridors of the Academy of Evil and the obstacles are caution signs on the floor, Fallen lockers, Holes, Holes with green liquid, Runner lookouts on the way, plus robot remains and fallen potions.
In the background we see classroom doors, windows with a rainy scenery outside, lockers, cobwebs, old principals paintings, school trophies.
✓Npcs:
* Hallway lookouts: You can spin and trip him to hit objects in front of you.
* Robot remains: Some you can trip forward to hit objects, but others you must dodge because the wires are shock.
✓Bando: In this scenario we find 6 Bandos, this scenario has more bosses than usual, since Ali is full of villains.
*Gang Rat Gang: We found one more anomaly, we must defeat this brute before he destroys the school. Along with his evil henchmen:
*Baby N.cortex Inferno, Zombot Nitro, Crash Robot Oxide and Baby Tiny Tiger Glacial.
*Madam amberly's gang: The headmistress came to exterminate the bandicoots, along with some suspicious students.
*Fake nina cortex, Fake Cortex, N.Tropy Phantom and N.Cortex phantom.
*Bando do N.tropy: He came to avenge his sweetie, and wipe out the Bandicoots, and called some Henchmen for fun.
*N.tropy Baby Inferno, Baby N.tropy Oxide, Crash Robot and Coco Robot.
*Good N.cortex Bunch: Another N.cortex appeared, is he good? So why are you attacking us? Let's defeat this anomaly in reality.
*Glacial Robot Crunch, Coco Glacial Robot, Glacial Robot Crash and Fake nina Cortex Oxide.
*Gang of N.gin Inferno: N.gin is back, with the help of UKa-Uka he has increased the powers of one more robot, so defeat N.gin+Uka-Uka. And his henchmen.
*Lo-Lo Robot, Py-ro Robot, Rok-ko Robot and Wa-wa Robot.
*Bando do N.brio: The source of the anomaly was found, did we reach N.brio that is accompanied by Crunch? So we saw that Crunch is being controlled by N.brio, so defeat N.brio and release Crunch.And N.brio is with some Henchmen:
* Ghost N.cortex, Ghost N.gin, Ghost N.tropy and Baby N.tropy
✓How does the battle against N.gin + Uka-Uka work?
In this special battle, you will fight using 3 characters, you start using Cortex to destroy the machine gun hands, click on the screen to shoot, then you switch to Crash or Coco and start destroying the robot and then use Tawna to open the glass. robot viewfinder and then crash can defeat and dispatch it to another dimension.
✓Do you get something special from defeating N.gin?
No, he's just a stronger than normal boss.
✓How does the battle against N.brio work?
In the battle against N.brio, we got the help of one of the Kupuna-wa quantum masks, N.brio is faster than normal and with the help of Crunch it gets even more complicated, so we got a very special help. So by clicking the button in the corner of the screen, time slows down, so you can dodge the attacks and hit N.brio. So after defeating N.brio it's Crunch's turn, so to defeat him we get the help of Dingodile, Crunch throws TNT's in our direction, then vacuum these boxes and bounce 4 of them back in Crunch and free him from mind control.
✓What happens to Crunch after the fight?
Crunch then joins the team, our team grows once more, now consisting of Crash, Coco, Tawna, Dingodile, N.cortex and Crunch. And he has a special ability, he with his super strength can destroy iron coated boxes with one spin. So his strength is essential for the team.
✓Will Crunch be a playable character at any stage?
You can use it to defeat any henchman or boss, but it can't be used on multiversal lanes (because they're exclusive to Tawna and Dingodile) and intelligence lanes (because they're exclusive to Cortex). But it can be used on its own unique routes, on the Intensive routes.
✓What are Intensive Routes:
Intensive Routes, are routes where you must be careful in each direction you go, not to be guided to death, pass the routes breaking all the iron boxes, and earn some crystals.
✓Description of Henchmen:
*N.tropy Ghost: He keeps throwing dimensional waves and creating wormholes, dodge all these obstacles and defeat this 5th category Ghost.
*N.Ghost Cortex: Keeps shooting plasma shots at you, dodge it and dispatch this dimensional slug.
*Robot crunch: he fires eye shots, dodge those shots and defeat this bandicoot robot.
*Lo-Lo Robot: Lo-Lo is pissed off? now attacking much faster than normal and also managing to create electrical barriers along the way, dodge everything and defeat this fake anomaly.
*Py-ro Robot: He now has huge fire rays from his mouth, and creates lava pits along the way, dodges all that fire and lowers his "flame".
*Rok-ko Robot: Another robot mask, now it creates holes in the path, in addition to manipulating the ground in front of you, be careful not to fall.
*Wa-wa Robot: Now instead of water jets, he is sending mini waves of water towards you, dodge those attacks and push this mask out of your way.
*N.gin ghost: He's sending Zombot at you through a controller, dispatch this little ghost in front of you.
✓Bosses Description:
*Kong Rat: An anomaly arises, with its attacks being throwing toxic balls at you, rocks and jumping towards you.
* Madam Amberly: She attacks her with lightning bolts, creating lightning barriers, throwing bells at her and managing to heal at times.
*N.tropy: He's attacking with his time fork, shooting time waits and time waves, as well as creating protective bubbles and sometimes going back in time to heal.
Good N.cortex: He attacks like he doesn't want to, but he launches leisurely shots as well as sending waves of animals in his direction that he controls with his control.
*N.gin + Uka-Uka= Ultimate mecha: he attacks with super leisure, ground-destroying punches, creating bubbles, healing bubbles, bouncing bubbles, throwing fireballs and summoning C boxes to create obstacles along the way.
*N.brio : It attacks by throwing explosive purple potions in your direction, creating the little green monsters, and sometimes changing the phase filter, leaving it in D'água to be slower, inverted to run to the opposite side and Hardcore with much faster attacks.
*Controlled crunch: Puts Nitros in the way and throws TNT's, which we use the dingodile to throw back at him.
✓Routes:
*Jewel route: get the yellow gem, reaching the end of the route.
*Challenge route: break all the crates and get Oxide ingredients.
*Multiversal route: complete the route without breaking any boxes and get 3 inverted jewels.
*Fragmented Route: Complete the path in the "Painting" filter and get 2 Nitro pistols.
*Intelligence Route: Complete the route with Cortex, without blowing up any Nitro and then get 5 pieces to improve Cortex's lab.
*Intensive route: Complete route with Crunch and break all the iron boxes and then get 4 glacial bazookas.
I hope you like it 😁
Leave a Comment