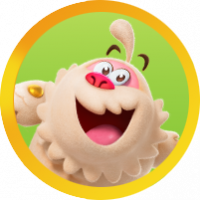 satanichippie

Level 2
About
Username

satanichippie

Joined

Visits

8

Last Active

Roles

Member

Points

17

Badges

7

Posts

9
Comments
Well I am going to have to go with truth, yes its true I L♡ve Candy Crush Saga!!!

My Sweet L♡VE is the in who holds the key to Heart, Her Name is Keysha. We have a Min-Pin named Obie that is like our kid, he's the SWEETEST Puppy thats ever been. They both help me cure my sweet tooth. Happy Valentines Day Keysha and Obie I L♡VE YOU!!!

I always thought I was an amazing Candy Crush player, that is untill I found the leader board and saw that was not the case. Saddened as I am it only makes me want to be the best Candy Crush Saga Player yet. So I will keep playing this sweet game and trying to make my dream come true.

My favorite color is green. It reminds me of the giant redwood trees in my back yard.

Cocoa loks like a Great Guy, I always thought that there is a pot of gold at the end of a rainbow not a pot of candy, guess you learn something everyday.

Don't let my name fool You or scare You, I'm really a sweet guy.

Here is my Map of Candyland showing me reaching level 2000 and passing it to make it to 2001, Thank You for all the fun it's been making it there. I feel like I'm part of an elite club.

I am on level 1981 andthought I was doing good until I saw people way farther along than me, well I guess I will keep on crushing it

Hello fellow Crushers, sending everyone My best wishes from Behind the EMERALD TRIANGLE. Thats located in lovely Northern California, up in the Redwoods. Where Bigfoot and the Ewoks live. Thank You have a Great Night.