🎉🐖🐥 Level 4000! Celebrate the release with us
HERE!
💪📱 Farm Harvest Master - Gold Bars & badges to win!
HERE!
What's going on here?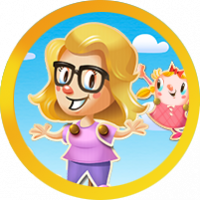 Elsa
Posts: 32,283
Community Hub Moderator
You did it!  Thank you so much for helping Amelia and her friends gather the cropsies.
Wait!  What's going on?  Who is that? 
That's Rancid the Racoon.  He is trying to spoil the precious Farm Lands, stealing as many Cropsies as he can along the way. Amelia needs your help!  Please join forces with her and help collect the Cropsies  before Rancid takes them away.
What should we do?  What should we do?  He's going to take all the cropsies!  We better go tell Amelia what's going on here!

Amelia what can we do to get rid of Rancid?

"Sorry that I can't be there to help you," says Amelia.  "But this is what you have to do.   You have to match the required Cropsies, multiple times.   Those Rancid levels require you to make matches with the apple, strawberry, sun and water drop cropsies.  But before the level opens you will be given the opportunity of using the beans for these levels.  I have found them very helpful to use to clear these levels.  But be aware that as you make matches Rancid will get really angry.  Good luck!"
Oh no, Rancid is really upset!  What do you think he will do next?
If you arrived here, you might want to start at the beginning .....

🌈________________________________________________________ 🌈
Leave a Comment