🎉🐖🐥 Level 4000! Celebrate the release with us
HERE!
💪📱 Farm Harvest Master - Gold Bars & badges to win!
HERE!
Once upon a time in the little town known as the Dairy District…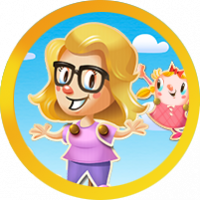 Elsa
Posts: 32,316
Community Hub Moderator
Lived this cute little pig named Amelia.  She loves farming and really loves to grow cropsies.  She takes great pride in watching them grow. Her friends, Hunter and Choochoo, love to help her plant the cropsies seeds.  Would you like to help her?  Watch out for Rob the Rabbit!  He loves to steal those carrots.
Cropsies are the vegetables, fruit, sunshine and water you can see in the game. This game is similar to Candy Crush Saga making it a match-3 game but with a Farm concept. You will see the objectives at the top of the screen and will always have a limited amount of moves in each level in order to meet the collection target goals. Make the goal before you run out of moves and you will be rewarded with at least one star for the level, some magic beans and the ability to move to the next level.  Once you've collected all the Cropsies, you will enter 'Hero Mode', during which you can use your remaining moves to improve your totals.  This is your opportunity to earn more stars. 
Amelia says thank you for helping her but what's going on here.
Please feel free to read all my stories here


🌈________________________________________________________ 🌈
Leave a Comment