❄️ Farm Pass Frosty Season - How to Play!❄️
HERE
🥇 WIN GOLD!! Guess the score 🥇
HERE
🐥 Beat the Superstar Contest is back in action 🐥
HERE
Why we love Farm Heroes Saga <3 Lets have a happy thread!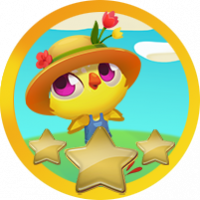 Chicken_Slayer
Posts: 13,235
Superstar
POSITIVE comments only please on this thread, we have tons of posts dedicated to issues and grumbles. Lets remember why we love our game, why we stick with our game and what makes us happy. Any happy comments about it welcome, any experiences, nice memories anything happy related to the game.
Rancid has a special crop feed for any negative comments that makes everything grumpy so keep it nice!
So what keeps me coming back despite the hours and months stuck on a level? What has had me roll about like a lunatic, in which case Mr Slayer thought there was something medically wrong, for passing a really repetitive level after weeks, so long when I did pass it was anti climatic. Luckily there are not many levels like that, so the levels that are fun, are challenging keep me coming back. I mean...who is going to let a smarmy raccoon get the better of them right?!
Farm Heroes is the ONLY game EVER that I keep the sounds on. I mute the music as I play a lot but I love to hear the little sounds especially the ones the crops make when they have  a shuffle. They sort of go woooooooo and sound all dizzy. 
I love the bulls! I love the spiders. The bulls especially are like little puzzles of their own. 
So what keeps you coming back for more? 

You can find out more about our Superstars here

 🍓 Want an undo button? Vote here 🍓

Keep social distancing 🥕 Stay Local no trips to Barnard castle! 🥕 Protect your loved ones 🍓 Do as they say, not as they do

Farm heroes addict slaying chickens since 2013. Wife, mother, youtuber, blogger, co-running a group with Mr slayer, endlessly trying to defeat Rancid while raising younger versions of their dad and I. We have no chance!
Leave a Comment