The In-Game Boosters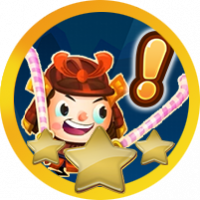 Elsa
Posts: 28,126
Superstar
There are a few in-game boosters that you can purchase to help you out of a difficult area. 

Flame Grower Booster can be used to grow any pepper on the board by three stages.  
The Collector Booster gathers peppers. Once you activate it, choose one of the peppers and it will collect all of them. 
The Hammer Booster destroys any object or one pepper. 
Create own matches Booster – activate and then choose a pepper to create more of the same peppers. 
The Firecracker Booster can be found on Mister Claws' levels.  When activated it will scare him away for 3 turns. 
Free Plus 3 Booster (+3) is the only completely free booster in the game.  Sometimes when you open the game you get the option of sending them to your friends, and sometimes your friends send them to you.  When you open the level, it will automatically be applied when you click accept.  However, If you accept them from your messages you won't have a choice to use them or not because they will already be activated. 
If you arrived here, then you might want to start at the beginning of 'How to Play Pepper Panic Saga' 


"Mother of Superstars. Relentless and passionate like no one else."

❤️ ❤️ ❤️ ❤️