(ENDED) 🍐 Papa Pear level challenge - win Badges and Gold Bars!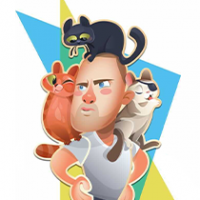 Crazy Cat Lad
Posts: 9,670
Community Manager
👨‍👩‍👦‍👦 New to the Community? Register here in just 2 seconds!
📱 Play Papa Pear Saga HERE!
Time for a new level challenge in the Game of the Month, which this month will be Papa Pear Saga!
If you haven't played Papa Pear Saga yet, now is the time!
By playing the game you can get exclusive Community badges and also win Gold Bars to your game. So are you ready for this bouncing challenge?
First download the game from HERE to your mobile device. If you are on a computer, you can also play it on Facebook HERE or download the app from Microsoft Store HERE.
You'll have three badges to claim in the challenge which you will get after completing the episode Pirates of Pearibbean and level 30, Veggie Volcano and level 60 and finally the Whacky West and level 105.
When you have completed the above episodes, i.e. completed level 30, 60 or 105, post a screen shot of your game map and current level where your avatar is visible.
On top of that! When the month ends, five players who got to level 105 will also win 20 Gold Bars to their games.
Get ready for the pearfect November challenge in the Community! 
If you think the game is a bit tricky, check out our small game guide with hints and tips HERE.
Please note that the challenge is only for new Papa Pear Saga players or players that haven't yet reached level 105 in the game.
Be aware that copying other player's screen shots and all type of cheating will lead to disqualification from the challenge and you will lose your badges and won Gold Bars.
You have until Monday 30 November 2020 06.00 EST to participate and you'll find terms and conditions here.