An update with 40 new puzzles are out now! 
Levels 871 to 910!

21 Rescue the Pets levels 
9 Remove all the Blocks levels
10 Vine levels  


The new levels start with
871
and a
Rotoblaster mania
! 
You will need clear the Blue Blocks and all Ice, but you will need to use the Rotoblasters in the right time and right direction to clear the level before you're out of moves. 
On level 
876 
only
four Planks and four Bubbles
need to be cleared, but it's not as easy as it sounds. 
Color Locks are blocking them and once again you will need to use the Rotoblaster wisely to clear all Planks and Bubbles.
Level
879
is to
clear the Planks and Ice
and you will need to start with breaking all Water Bottles to get the water to rise up to the Dark Clouds. Get through the Dark Clouds and clear the Ice and Planks above, but, don't forget the Ice and Planks on the sides! 
Level
882
has
two Big Pets to rescue
and Color Locks are blocking them. Clear the Ice as soon as you can on the iced Blocks above and try to make as many Line Blasters, Pinata Bombs as possible to get all required Blocks cleared and unlock the two Color Locks.
Level
884
is a mix of everything!
A Flood and Vine level with both Pets and Eggs
! 
Focus on the Water Bottles to get the water up so you will reach the Eggs above and then focus on the Eggs. The Pets in the middle and on the Vines will follow you quite easily. It's the Eggs that is the challenging part.
Level
891
will start with a Color Pop ready waiting. After creating it follow that up with making a Pinata Bomb and a Line Blaster next to it. Match the three Boosters to clear the whole board. Then you'll
get down to the Pet Carriers
quick and easy.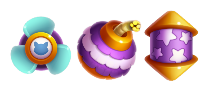 On
901
start with
breaking the Water Bottles
in the bottom, then
making the three Line Blasters
in the middle and the rest will go smoothly...
Level
904
is a tricky Vine level. Through the game you'll find
Color Pops and Line Blasters, but you will need to use these in the exact right move and moment
so they will help you out. If you don't match them in the right moment, then they won't help you out. 
907
needs to be
done in the exact correct order
to get the Pets rescued. First rescue the frozen Big Pet in the middle, then clear the Water Bottles to get the water up. Then you'll be able to get up the remaining pets and match the Pet Carriers. 
Good luck! 
Did you see a Raccoon jumping in your game?
Or did you suddenly lose some coins?