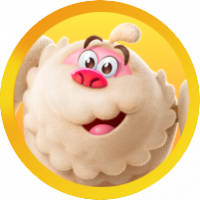 alsto40

Level 3
About
Username

alsto40

Joined

Visits

1,170

Last Active

Roles

Member

Points

145

Posts

337

Badges

32
Comments
I'm sorry but I do hope they reimburse everyone who paid for the 24 hours unlimited lives like me. It's bull crap to have to wait until Monday for them to fix it. Besides Monday it doesn't even run. How do you do an update and not make sure it works…

Same here. Don't appreciate my unlimited time being wasted now.

Is this even Candy Crush Jelly? This is for the Royal Championship. Might be helpful to go to the regular game boards instead of something not related to it.

So my IPad has updated this app and now I can't even get in RC?? Of course this happens in the hour that I took a walk. Smh.

I have seen in the past 2 weeks 3 different people with the "golden peacock" badge aka the highest badge you go to the green one. I used to be able to get to that badge at least a couple times a week. Now I can't even get past the first level of 7 &…

I was talking about the blockers for the game when you reach the treasure chests. Although I have no clue what a peacock is anymore since I haven't made it that far in months. Sad the game I just played the opponent won before I even made the first …

It won't load on my iPad but will on my phone. Everything is updated and I even played a game of regular jelly and nothing.

I thought I was the only one. I haven't gotten any fishnets or cupcake blockers in over 2 months.

Play a regular game of jelly and see if that brings it up. That's usually all it takes if both the device and app are updated.

It's just you. New round was up yesterday.

I just wish they would stop giving regular jelly prizes in the chests. It's sickening to get all the way to the 7 game treasure chest only to find no RC boosters. It's all for the regular game. I stopped playing regular jelly a long time ago. I also…

Check to see if your iPad has an update & then check to see if the app has one. That's usually why. Then if all of that is fine... play a match of regular jelly. It usually comes up after that if the other 2 are updated.

Everything you all are complaining about has been happening for almost a year now. The game is rigged and makes you lose you in hopes you will spend money on the game. The studio doesn't care. They have proven it time & time again. You either li…

Last time this happened I turned my emoji's back on & waited for them to finish throwing all their emoji's up & then they left the game.

Hey Lady!!! How have you been?!!!

Yes, we've had this board since at least May of this year. It's not new. They used to play it over & over and then stopped. They brought it back out last week. PS... and yes I can recall my memory "again" because I never lost it to begin with.

Sorry it's not a new or redesigned board. They played this board for a long time & then stored it until last week when they brought it back out.

Nothing is new. They brought back a board into rotation but there hasn't been any new boards added in over 6 months at least.

@

[email protected]

- all bull💩 fluffy answers. Bottom line is they don't care about you or me or anyone else who plays this game. They have proved that time & time again.

Everybody gets the last turn message. It's nothing new. @NatalieG But just like these people who claim they don't get this message, it is the reason why they block you on the last turn. I've done it before when I'm not paying attention.