Cats vs Dogs - vote, comment and win Gold Bars! (finished)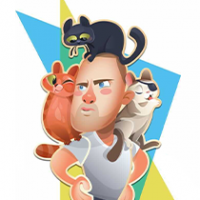 Crazy Cat Lad
Posts: 8,738
Community Manager
🐾 New to the Community? Register here in just 2 seconds!
It's time for the battle and election of the year! Cats vs Dogs!
Are you a crazy cat lady or is it the man's best friend you can't live without?
Which do you prefer, cats or dogs?
Or can't you simply not choose between them two?
Vote and comment your best argument here below, why you prefer cats or dogs to get the chance to win Gold Bars!
On Tuesday 3 November we will pick three players among those who voted and also commented and they will win 30 Gold Bars each to their Pet Rescue Saga in this Community election.
They need your vote and every vote counts. So vote now!
You have until Tuesday 3 November 2020 06:00 EST to participate and you'll find terms and conditions here.
Cats vs Dogs - vote, comment and win Gold Bars! (finished)
This is a public poll: others will see what you voted for.
Leave a Comment