⚠️
Need help?
Check our FAQ:s first
HERE
🏝️
Summer Petopia!
Find all info and fun about the city builder feature
HERE!
🗺️
Share your Summer Petopia map in Community!
Claim your exclusive badge
HERE!
❓️
Summer Petopia Quiz!
Gold Bars to win
HERE!
Due to an issue with our servers, on the 5th of July
all Private Messages will be deleted and disabled.
Read more
HERE
Which Booster is the most petriffic in your game?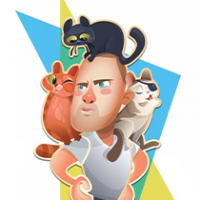 Crazy Cat Lad
Posts: 13,811
Community Manager
Which Booster gives the best boost in the game?
The type of Booster that you prefer may depend on which type of level you play, but which Booster is the one you prefer in over all?
If you could only use one Booster in the game, which one would it be?
Blockbuster
Getting rid of one single block can be a huge help to get all the block in the correct position.
Color Pop Balloon
One colour completely wiped and boom, the level got so much easier.
Column Blaster
One column of blocks can rescue one pet in a single move.
Line Blaster
Getting rid of a bunch of blockers or maybe the last row of blocks could rescue many pets in a few moves.
Mesh Masher
The mesh is a Blocker with a capital B. One snap with this Booster and you'll have the level success in your hand like a pair of scissors!
Master Key
The locked up cement blocks are stopping you from rescuing the pets on many levels. A touch of the Master Key may be the key to a master rescue!
Paintbrush
Levels with all five block colours can be tricky since the blocks have a tendency to spread out. Connecting them with the Paintbrush can save you many moves.
Vote and comment on your favourite!
I will pick five players that voted and also had the best comments to win 10 Gold Bars each on 9 April.
You have until Thursday 9 April 9:00 CET to participate! You can read the Terms and Conditions here.
Don't have a Community account yet? 
Which Booster is the most petriffic in your game?
This is a public poll: others will see what you voted for.
Leave a Comment