Welcome the new Superstar team 2020! ⭐️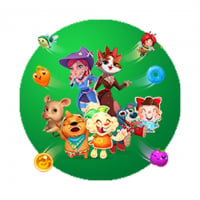 Community_Team
Posts: 1,859
System
The time has come... The new Superstar program is here!
⭐️⭐️⭐️⭐️⭐️
Let's all welcome the new team (in alphabetical order) : 
@bearwithme 
- sweet and helpful bear lover, you'll want to cuddle her
@Chicken_Slayer
- the nicest "crusader against Chickens" you'll ever find...now also in Bubble
@Crimson_Dawn
 - a smart, caring and cooperative knight of the Kingdom
@Elsa
- Mother of Superstars. Relentless and passionate like no one else
@firebombmarkus
- his friendly and calm way will conquer your heart
@Foley1362
-  our sport coach, always ready for action and new challenges
@kiara_wael
- one of the most passionate pet rescuers in the world
@Lynette
- Master of Level Videos, she knows Pet Rescue inside out
@mysticalmysty
- gentle and generous, unfailingly there to help you out
@PummyRaj
- kindness and wisdom in every helping post
@Rancid
- fun and helpful with a sarcastic touch
@SeraphicStar
- a real star that will show you the way around the Community 
@Sukanta_Biswas
 - expert knight of the Candy Kingdom and beyond
@wafercookieflippers
- a new Superstar, ready to shine with a flip of her whale tail
You'll see them around the Community, helping and chatting with everyone, as the twinkling stars they are! 💫
In behalf of the Community team...
thanks Superstars for existing
!!🙏
And now let's say hi to them! Leave your comments below 👇
New to the Community? No account yet?  You can register 
h
ere 
in just 2 seconds!
                   Win Gold Bars, badges and more! Check out our 
contests
!   
Want to PLAY more?
🍭 
Play
Candy Crush Saga
      🥤
Play
Candy Crush Soda Saga
         👭
Play
Candy Crush Friends Saga
🍮
Play
Candy Crush Jelly Saga
      🍏
Play
Farm Heroes Saga
🌟 
This discussion has been closed.