🔧
Temporary connectivity issues!
More details
HERE
Is your game crashing on an Apple device?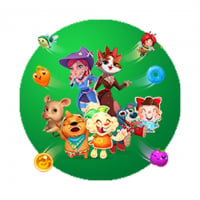 edited October 2021
in Apple
New to the Community? Register here in just 2 seconds!
🌟 

Our games are in continuous evolution and each new update including additional content and features mean that lots of new code are written by our developers which might include some bugs. We test all our updates thoroughly to remove any possible bugs, but it might happen that a sneaky bug slips through to the game.

Worry not! While technical issues are very frustrating, the great news is that they are also generally quite easily fixed. The first thing we need to do is make sure that your device is running as smoothly as possible. 
Checking for updates on your game and device
Ensuring that your device and the game app are the latest and most up-to-date versions is really important as it means that not only will your device run as smoothly as possible, but also that you can take advantage of the latest levels, features, and promotions that we have released.
We've created this helpful video to guide you along the process, take a look!
You can also check this article from Apple for more information about updating your iOS software.
If you're already on the most up to date version of your game and iOS, or once you've updated them, and crashing still happens, we can perform the following actions:


Force closing your apps 
Double click the Home button to see your open apps
Swipe up on all apps which can interfere with the performance of the game
Restarting your device
Press and hold the Sleep/Wake button until the "Power Off" slider appears.
Drag the slider to turn your device completely off.
After the device turns off, press and hold the Sleep/Wake button again until you see the Apple logo.
Checking the storage on your device 
Make sure that you have sufficient free storage on your device, we normally recommend having at least 2GB free. 
Check this article from Apple for more information about the storage on your device.


Reinstalling the game apps
If the previous steps haven't worked, then, as a last resort, we can try reinstalling the game. This will generally fix most other issues but before performing this step please be aware of the following:
Back your progress up: make sure that your game progress is safely backed up to either Facebook or a Kingdom account. If you use Facebook then make sure the last level you played was while you were connected. If you don't use Facebook then make sure you have created a Kingdom account, check the video below on how to create and synchronize your Kingdom account.
Lost boosters: this step will also delete all of your saved boosters, extra lives and reset any extra features such as Daily Bonus or extra challenges that you have completed. These items and features are saved directly to the device's memory then reinstalling the game, unfortunately, clears them from your game. We will of course, replace any purchased boosters you may lose during this step, but we do not replace any lost free items which may have been won or awarded while playing. Please keep this in mind before performing this action!
Once you have backed up your game progress and considered the lost boosters, you can now uninstall the game. For this: 
Touch the app and hold your finger down until all the apps start to "jiggle"
When an 'x' icon appears in the top left corner of the app icon - tap it to delete the app 
Now reinstall the game and log back in via Facebook or the Kingdom to restore your game progress and Gold Bars 
If none of the above works, please check to be sure that your device is compatible with our games, find out more here 
Still having a problem with your game? Why not ask other players for help in our Community? Here you can also discover our Community Superstars, competitions, off-topic conversations, and much much more! Simply go to the home page here and select the game you wish to explore. 

This discussion has been closed.