Game keeps connecting to the wrong Facebook account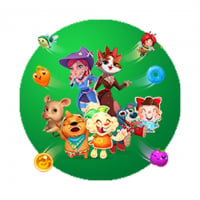 CommunityTeam
Posts: 1,928
System
edited October 2021
in Apple
Sometimes the game can by mistake connect to another person's Facebook account if that person has logged into their Facebook on your device earlier.
If you have issues getting the game back connected to your account, please try these steps to get this sorted out:
-Disconnect the game from Facebook under the game's Settings
-Delete the Facebook app from the device (Not the game! Facebook only)
-Close all tabs in Safari and clear the browser cache by going to Settings > Safari > Clear History and Website Data (this may vary on some iPhone and iPad models - please check Apple Support for further help and details)
-Turn off the device and wait about 30 seconds to clear the cache on the device
-Turn on the device again
-Open Safari, go to Facebook's web page and log in to your Facebook account through the browser
-Open the game and connect it to Facebook and the game should now connect your account through the browser
Once you're connected to your account, you can reinstall the Facebook app and continue using it if you wish.
This discussion has been closed.