The House Rules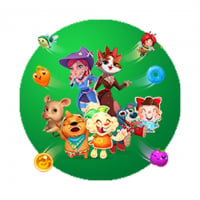 CommunityTeam
Posts: 1,954
System
👨‍👩‍👦‍👦 New to the Community? Register here in just 2 seconds!
Dear players,
Welcome to the Community! You are now one of us and this is your house.  🤗 And just like in any house, there are some rules to be followed in order for us to all live happily together.
Community Managers represent King and are the authority in the official forums, and we make sure that everyone follows these House Rules and the terms and conditions. That means we will distribute warnings, edit, move or delete content created by users and - if necessary - ban members who are not complying with them.
In other words, the Community Managers have final decisions on all matters, and together with the Game Mods, we are here to make sure that the community remains a friendly and fun place,  appropriate for players of all backgrounds, ages (from 13 years onwards) and groups. In case of any doubt or question, do not hesitate to contact one of the members of our team. 😊
Let's start with the basic rules:
⭐️
Be kind
We will not allow any behavior that is disrespectful or offensive to other members of this community or towards the King staff.  Discrimination and hate speech are the quickest way for you to get banned. Discriminatory posts about sex, gender, race, creed, sexuality and religious beliefs will not be tolerated. No trolling! Baiting, insulting and posting controversial content, with the aim of provoking a response, is especially not tolerated. Any content deemed as trolling will also be deleted.
Consequences:
From first warning for minor issues to direct ban for severe issues or multiple warnings
⭐️ Keep it on topic
Make sure that you post in the right community section. Spam, pointless and meaningless content ruins discussions and we have a zero-tolerance policy for all automated messages, advertisements and threads that contain links to websites that are not related to the game. These will be deleted and repeated behavior will result in a ban.
Consequences:
From first warning for minor issues to direct ban for severe issues or multiple warnings
⭐️ Keep it clean
If it isn't legal, take it elsewhere. Discussion of illegal activities which include but are not limited to: narcotics, illegal sexual content, circumvention of copy protection and piracy are strictly off-limits and will result in a ban from the site. In doubt, all terms and conditions can be found here.
Consequences:
Direct ban
⭐️These rules also include:
No selling stuff or redirecting our players to other sites.
Don't use multiple accounts to spam or for toxic behavior.
Keep your personal information (such as email addresses, phone numbers, home address) out of any public post.
Avoid posting pictures involving children.
Don't incite complaints, campaigns, or lobby.
Don't question moderator actions publicly. What we say goes.
Discussions of politics and religion are not allowed.
Don't post discussions or pictures of weapons such as firearms, knives etc. Use common sense and remember to keep it Sweet and Kind.
Don't get around our filters, that's swearwords and other blocked terms.
Don't air interpersonal disputes.
Only English is allowed. Désolée.
Copyrighted images are not allowed as avatars
Don't share private conversations with any member, Game Mod, CM or with the Player Support Team in the forum
Consequences:
From first warning for minor issues to direct ban for severe issues or multiple warnings
Violation of the rules and bans
The Community Team will determine the severity of the infractions and act accordingly. All cases will be handled on an individual basis and sanctions can vary. The accumulation of penalty points can lead to temporary bans. Bans can also be performed instantly for severe cases. In special cases, permanent bans can also be executed, and unbans can happen.
How to report inappropriate behavior
If you feel someone is breaking the House Rules, please use this flag to report it to the Community Team:
You can also reach out to our Game Mods and Community Managers for more information.
Online security tips
Here are some online security tips to make you feel safe and comfy in the Community:
Use strong passwords, and never use the same password for different websites. Don't share your account password with anyone!
Keep your antivirus up to date
Use two-factor authentication whenever possible
Think before posting- any comment or image you post online may stay online forever because removing the original does not remove any copies that other people made
Thanks for reading through the rules and I wish you lots of fun in the Community. After all, we're all friends of King here, so treat others the way you would like to be treated. 
❤️
➡️ Now you know "da rules", have a look at the  Road to King Community Legend and beyond! Levels, Points, Answer, Badges and more!
This discussion has been closed.