🎶
Meet the Audio Team
and share your feedback
HERE!
🗞
September Monthly Newsletter
HERE
🌶 Check our
Hot topics
HERE
🥇 Badges - Competitions 🏆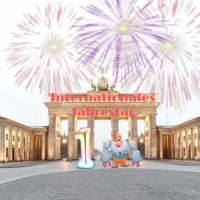 Spinnifix
Posts: 19,621
Ambassador
💗 Hello dear Players 💗
I want to make a big post.There are 3 things in one post.
In the German corner I open a lot of posts to ask the players about different things. The answer is always the same as you'd like badges.
Everyone loves the badges and everyone wants them. 😉
I am always fascinated and enthusiastic about the beauty of the badges. Even I need the badges for my competitions and badge events.
Only these are not stored here so that you can pick them out. No, there are volunteer players who produce them.
🤗 This is a great honor for me to thank the helpers. 🤗
For the German area I had 5 players who created a nice badge for me.
These are: @DaniTheOG @bearwithme @Nat09 @Lola_Pop @Crazy Cat Lad
You don't just get the badge in the German corner, but in the entire community There are other players who make such beautiful badges. Of course I would also like to thank them.
@Sukanta_Biswas @LadyRaffie ...... and many more. I don't know all of them, but they should feel addressed.
A thank you also goes to: @MightyWolf
These helpers make the community a better place and make for great competitions and events.😊
As I said. 3 things in one post:
Here I would like to take the opportunity to advertise the international corner. At the end of the week there will be 3 new and great competitions with badges. Please come to us in our language areas. Not only 1 badge can be won! A little tip from me. We worked on it for a long time to offer you a great competition.
Please be curious !!! It's definitely worth it. @Nat09 French Ambassador --- @hechicerilla Spanish Ambassador 💞💞💞
Since there are now such great badges everywhere and I don't want to take them for granted, it is therefore very important to me that they should also receive recognition in the form of a reward. Without these volunteers, we wouldn't have such great events. Please keep this in mind when voting! 😉
Many Thanks🥰
🥇 Badges - Competitions 🏆
72 votes