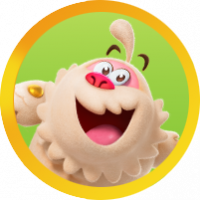 jenniferhagenbuch48
Level 2
Crazy love for candy crush saga

jenniferhagenbuch48

Level 2
About
Username

jenniferhagenbuch48

Email

Joined

Visits

33

Last Active

Roles

Member

Points

29

Badges

11

Posts

21
Comments
Yes please tag me! I love playing daily and I help back! Please check out my candy crush saga, crush friends and soda!!

Hello out there! I'm so happy I enjoy the Soda Saga just as much as the original Candy Crush! If you want a new teammate please feel free to contact me! I appreciate any help given I definitely reciprocate!

Hi everyone! New to the candy crush soda saga and happy I didn't just stick to my very 1st love Candy Crush Saga!! I figured why not ask my new friendly community members to add me to their game!

Candy crush saga is my favorite of all the candy games! Tag me in any saga and I will friend you and send you lives regularly.

Candy crush friends is a way to continue laying while I'm waiting on my candy crush saga to refill my lives!

Got it pre ordered on apple

Wow! You summarized 7 pretty great and I've also had a few 7s in my life! I was born on July 7 of 1975. My daughter, her bf and her son are all month7 babies! A peaceful #7 shined the Light upon the evil #6!!!

ow long have you been playing candy crush? C). Over 5 years 2. How many times a day do you play Candy crush? Over 2 hours 3. Have you recommended Candy Crush to anyone?C). Of course!

Not doing so hot 🥵 on level 4134🤯 any tips that don't require extra candy's of any kind and unable to do any in app purchases either😱

Thank you for the extra game to play and get extra rewards!

Here's to being 4000 plus levels to show how much I truly love 💕 this game!!

Love candy crush saga! Multiple times per day I play and decided to join the kingdom for royalty specials and meeting candy crushers from all over the world! Thanks for being there throughout my journey with candy crush!!

Hi Elsa! I can relate to your journey with addiction and candy crush saga's help me through still to this day! Recovery is a wonderful feeling and I will use candy crush saga as a coping skill at least 100-200 times per day 🤔😬🤫😶😶

Please add me to your candy crush saga! I'm always in need of someone reliable to play for just a little while and gone!🥺

Humble & Open I believe is needed for many obstacles people tend to get themselves into by way of theft and fraudulent purchases so I'm happy I found a great community to join!

Absolutely love candy crush saga! I always return requests for lives!! I always need them as well!