Can you help Blossom to solve this problem? Answer and win Gold Bars! (FINISHED)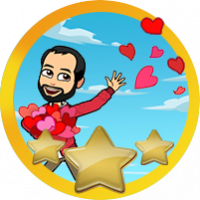 firebombmarkus
Posts: 13,003
Superstar
Hello, everyone, 🤗 I hope you are having an amazing day!
If you don't have a Community account yet, no worries, sign up right here
Our cutest bee Blossom just said goodbye to summer and welcomed autumn. She told me she prefers summer than autumn. I prefer autumn but I didn't want to tell her as she is in a very good mood, taking care of her dear flowers.


Anyway, autumn is here and she wants to arrange her garden a little bit. To do this she will need some help from you. She is stuck with some moles, plant pots and weeds and she needs your help. All you need is to solve the equations and tell her the final result. 
Do you have what it takes to help Blossom?
Comment below what is the answer to this puzzling math problem! 5 random players who get the right answer will earn 20 gold bars. Good luck!
Please use the spoiler for your answer like on the picture below. Only players who use the spoiler will be eligible for the reward.
You have time to answer until 25th of October, 13:00 CET. 
Terms and Conditions here


The only way outside is inside. Namaste 🙏🏻
Level search box - Candy Crush Saga
🌈
Portal to navigate between levels - Friends Saga
🌈
Shake Piggy Bank - Friends Saga
🌈
Leave a Comment