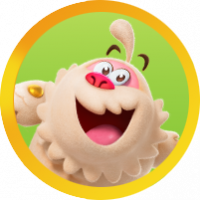 Tallie12

Level 2
About
Username

Tallie12

Joined

Visits

41

Last Active

Roles

Member

Points

37

Badges

12

Posts

34
Comments
@BibiSKhan what pointers can you give for your win? Thank you! Ann

@ElenaVorona You are so cool just being on here! How long have you been playing and what level?

Congratulations! Fun tournament to watch! You all did great!

@robbarnesjr @Biao @Skrivan @Shirley_Falk I am so new on here! I think I messed up so many posts. Congratulations to all of you! It was a fun tourney to watch. @

[email protected]

I congratulated you in error but what the heck! Lol.

@robbarnesjr congratulations! You were fun to watch! @

[email protected]

@Shirley_Falk @@Bia_Bis

Congratulations @ElenaVorona ! It was fun watching you play! What level are you on .... Curious lol! You did a great job!

Congratulations Bibi! And to the other 9 finalists!

Hey everyone how do we watch the candycrush tourney today? @Diamond Lim @candyfancy @Barry_Dean_Clark @Cagnes

Your right @kimberlykoon . I'm getting over it! Lol. It's fun to see the pics if the winners. How can we watch this live? Thanks for the encouragement. I do love the game! Ann

I'm trying not to be a sore loser. Can you guys let me know? I know there were players playing several games at a time and it all totaled up into the one score. And the technical gamers who know the tricks etc...I had to play game by game. I did make the first 3 rounds but came in 2nd before the big final. I love playing…

Congratulations to the winners! Good luck. Ann

Congratulations to the 10 winners! A few gripes. I was in the semi finals and the tournament was on Tues and Wed. I work 10 hour days. Also playing multiple games at the same time seems a little unfair ...and the gamers that know all the tricks. Congratulations to you. But I wish they could have a contest for people like…

Im here!Hey friends!! I am looking for ladies interested in a gift exchange. Doesn't matter where you live - you are welcome to join. You only have to buy one gift valued at at least $10 and send it to your secret sis. (Hello, Online shopping!) you will then receive fun gifts in return 🎁. We could all could use some extra…

Ok here is what I've learned. We are fools to buy candycrush helpers. I am a fool. Candycrush is a multimillion dollar company and they do not offer any money prize? But yet Khole Kardashian and freakish looking self and friends are being paid millions to host this? Yet we are paying and cheating to win what? Ann

It is now 1030 am and it hasn't started!

Do we quess at the start time? Errrrrrr Ann

Wish I knew the time. Hmmmm

True. What time does the tournament start tomorrow oct 21?