➡️ Have you passed
a milestone level?
Come grab your badges
HERE!
➡️ Need some tips for a
hard level?
Head over
HERE!
Calling all Level 6000 players! 🎊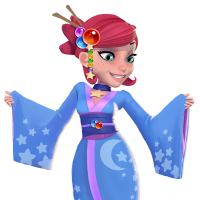 Hello, Jellies!
New Level is here!! Already conquer level 6000? Oh wow, congratulations!
You certainly deserve this amazing Level 6000 badge!
How to get it?
That's easy peasy! Simply share a screenshot of your level below showing that you've passed level 6000 and you will receive your badge
Here's how you can add a screenshot to your comment:
Where will you (and everyone) see your badge?
It will be visible in your Community profile! Just by tapping on your nickname, you'll get to it. 🤗Note that badges give you points, and points give you more rewards!
Remember to wear it with pride...and congratulations!
Get back to your Candy Crush Jelly Saga map- click ➡️ HERE ⬅️
Note that there can be a slight delay between for the badge to be added to your profile.
Time to show the world what a great Candy Crush Jelly player you are! 🍬
No account yet? Sign up in 2 seconds to participate! 😉
Comments