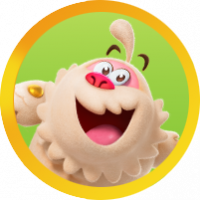 MyLittleGrandma

Level 3
About
Username

MyLittleGrandma

Joined

Visits

300

Last Active

Roles

Member

Points

109

Badges

31

Posts

69
Comments
Here's my screenshot to claim level 12000 badge.

I am playing Candy Crush Saga from the United States of America

My final blue turtle score of 395188 for this week's Gold Vault Challenge earned amazing sweet rewards! Congrats to all players participating in this fun challenge.

My score for day 3 of this week's Gold Vault Challenge is 395188

My score for day 2 of this week's Gold Vault Challenge is 281179

My score for first day of this week's Gold Vault Challenge is 189903

Posting screenshot that I passed level 11000. Congrats to all loyal candy crush saga players who have also achieved this goal. It's been an amazing and challenging journey!

My vote is for more daily boosters!

Please accept this screenshot of level 270 with sugar stars as Spring Race week 5 entry. I apologize for misunderstanding difference between gold and blue stars.

@CrazyCatLad, thanks for letting me know that my week 5 entry is missing (although it was sent May 24). In any event, please accept this screenshot of completed level 270 with sugar stars.

On May 19 sumitted week 4 entry. Surprised I did not get credit showing start 10125 and end 10175. Resubmitting screenshot of 10125 and hope screenshot of my current level 10963 is acceptable as week 4 entry?

I was surprised to see that I need to finish week 4 quest? Could you please recheck to see if you received my entry submitted May 18 for week 4? Week 4 quest was to complete 50 levels and I submitted screen shots of start level 10125 and finish level 10175, making 50 levels completed. Thanks for checking.

Thanks for the Vault Challenge Badge. Sure was a fun challenge! Congrats to all players who participated too.

Here are my 2 screenshots for Candy Spring Race week 7 (3 different special candies and level completed popup for my favorite level 1476)

My screen froze so I don't know if my Gold Vault Challenge score posted so resending again, 418409

My updated score for Gold Vault Challenge to collect blue turtle candies is 363539

Updated score on my Gold Vault Challenge is 233887 blue turtle candies

Posting today's score on the vault challenge.

I'm a little bit confused on what to post for vault challenge? So I'm posting screenshots for passing bronze, silver and gold vaults. Not sure what to do next?