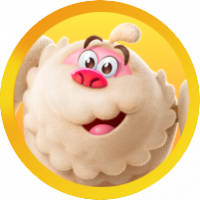 Shadae

Level 2
How can I get the fruit cart / stand looking thing?
About
Username

Shadae

Joined

Visits

39

Last Active

Roles

Member

Points

29

Posts

13

Badges

9
Comments
Mine is blue. When filling mini game orders, I can always depend on blue because there's SO much BLUE.

Completed 50 Levels in one day. Screen shots attached below. Thanks for the competition. 🤩😍🤩😍😏 All the best y'all.

(Spoiler) Playing for Candy Crush of course. Hope we win.

My scores for Week 2 were the best. I was 2nd in both Week 2 and Week 3.

Cause I'm definitely a Queen. JELLY 👸

My guess is 70000 - 90000 range for ⭐⭐⭐, considering you have boosters available. Let me say 85000 bracket.

I think I play 20 - 30 levels. Starting today Wednesday -

Extraordinary Gummy Bear. ❤❤ that's wild.

Yetti - juggling. Love a blast, especially when paired with another wrapped candy.

I loved it. Some levels were trying to kick my rear end, level 9 and 10 mainly. For me, Jelly Queen is top 2 in terms of abilities. I love that no moves have to be made once her power is activated on the board. It's instant and she fires directly at…

Hi. I'm a newby here. Not yet at 1000 in CCS but will eventually get there. I'm over 1000 in CCFS. I'll stick around here to see what it's like.