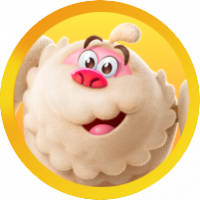 lilguinea75

Level 2
About
Username

lilguinea75

Joined

Visits

34

Last Active

Roles

Member

Points

50

Posts

32

Badges

17
Comments
Level 6000 and beyond.....

I'm way past level 5000.. but I played it again just for you!!

Level 1000. How do I claim my badge? Or do they just give it to you after you post? Because I keep getting emails to claim the same badges over and over.. so I'm obviously not doing something right?? Help?!?!?

Getting this far isn't all it's cracked up to be!!

How do I claim my badge?!?

I'm surprised so many people chose purple!! 💜!! But I'm sure they did it for the same reason I did.. it's the color that comes up the most..

I keep track!!! But it sucks when your so far ahead you can't even enter/ win half these contests because there's not with enough levels left to play. So I am learning that being at the top isn't always the best place to be!!

I have a question!?!?!? I'm at the end of the game and have to wait until each Wednesday for the 3 new boards that you post. Now seeing as how there are only 15 games per board which equals 45 games total! Therefore, there is no way that I can play …

I'm ready 👏 (rubbing hands together)!!! I'm just waiting on you guys!!