Behind the Scenes -Episode 67 Open the boxes!
Hello dear Diamond Hunters
💎


Today is Thursday and is that time for a new episode! 
Here's how the Diamond Diaries game studio describes the episode.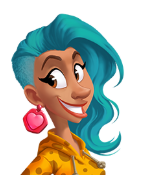 "This new episode will let you play another 15 amazing levels
Our favourite levels are 1134,1137,1144. 
You can also find challenging levels such as 1133,1138,1142 where your skills will be tested 
Level 1134. Aim to get the keys first, it will help you progress faster!
Level 1137. This level is tricky, opening the boxes and using the centre contraption will lead to solving the puzzle!
Level 1142. Try to open the boxes first, as this will help you throughout the level! 
We hope you enjoy this new episode of Diamond Diaries Saga!
If we can help you with anything else, please let us know.
Diamond Diaries Design team"
⭐️⭐️⭐️ 
Tell us in the comments below what you thought of the new levels  
Comments

💍 Download Diamond Diaries Saga
HERE!