Ra's Third Eye: Episodes 133 and 134 !!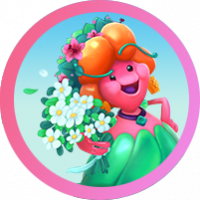 Lola_Pop
Posts: 11,914
Community Manager
We have heard your prayers, beloved Pyramid adventurers!
Ra's third Eye is always aware of your needs, in fact, I know it even before your desires are formed in your hearts and minds.
Not 15 but 30 new levels are waiting to be discovered by you!
Episode 133 and Episode 134, created by mighty hands to bring to all of you bliss and new challenges.
Listen to my words now:
👁Level 2033👁
2 Golden Scarabs are hidden under chains and green vines.
Use the power of the Scarabs to beat this level.
The green vines will help you to unleash the traitorous chains. After you have passed this test, head your attention to the left side of the room, there is Cleopatra's Emerald* key waiting.
👁Level 2038 👁
Can you also see a Question Mark? But it is not the time to ask questions - I have the answer.
This Streak can be done even if it looks impossible.
There are Jokers hidden in almost every corner. Just trust me and Reflect on your choices!
👁 Level 2045 👁
Concentrate on the middle part of the room. After 10 steps, the sneaky Jungle leaves will vanish. This is the time to go after them as soon as possible.
Find the Sapphire key!
*Did you know?
The ancients appear to have obtained emeralds from Upper Egypt, where it is said to have been worked as early as 2000 BC. Greek miners were working the mines in the time of Alexander the Great, and later the mines yielded their gems to Cleopatra. Remains of extensive workings were discovered about 1817; "Cleopatra's Mines" are situated in Jabal Sukayt and Jabal Zabārah near the Red Sea coast, east of Aswān. (Source https://www.britannica.com/)
The journey doesn't end here!
As promised, here are the secrets of Episode 134:
👁Level 2048👁
Focus on the middle part and reach the 3 purple vines standing next to each other. The middle one has a mysterious Fortune card for you.
Remove all purple vines, then focus on the chains on the upper left corner to get Cleopatra's Emerald key.
Have you already found the Joker at the right corner at the bottom? Keep it until you find the Sapphire key.
👁Level 2052👁
It looks easy as there are Jokers everywhere.
But don't be tricked, the Streak is high! And every Joker counts. 
Let me tell you that after opening the blue Sapphire key, you have a second chance to get that Streak.
👁Level 2059👁
Put all your trust in Scarabs as they will be vital in this room! 
Search for the purple vine Card in the middle of the room, hidden in the back. It will give you Fortune and help to conquer this level.
And this is all I can reveal today.
May these words serve you as a light in dark rooms.
Be brave and never give up!
Comments

♣️Download Pyramid Solitaire Saga
HERE!