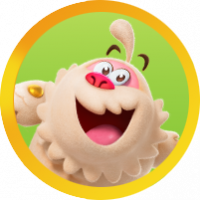 Munster

Level 2
About
Username

Munster

Joined

Visits

212

Last Active

Roles

Member

Points

94

Badges

26

Posts

157
Comments
love this season but they're certain things I'm concerned with: the difficulty of certain levels and the limited amount of lives given to us daily. I don't understand why they are limiting on lives

happy father's day to all the dads, step-dads, uncles, papa, Opa, and everyone in between

the levels after 11800 and up are so hard!! the levels don't have enough moves to win the levels and the chances of winning more boosters and moves are limited

I still can't join a team!! people have sent me requests to join but whenever I click on the link to join, it disappears

this was our garden last year, my husband decided to get 15 pepper plants so he could make his own hot sauce!! this year he was limited to 10 pepper plants- jalapenos, ghost peppers, Thai pepper, and reapers... to name a few

hey diamond, when will the badge appear??

cool dudes!! hello from Chicago!! have a great summer

good morning everyone!! have a great week later dudes, all the best, Winnie

level 11914... 19 moves to complete this level with the completion of 249 blocks ...sorry, but I don't know who agreed to this but they have NOT played this level... we can NOT complete this level with these minimal moves

still stuck on this bloody level!! combo doesn't work, I only have 25 gold bars left from 150 so no, I'll not be using any more bars

23 moves to complete a level that needed to clear 224 blocks and three cherries is clearly not enough moves

stuck on level 11863 for three days now, used up almost all of my gold bars for extra moves and boosters but still stuck

level 11841 on up... bloody hard as hell, none of the pieces seems to be working for me and I'm using up an hour of life to pass a five levels... don't know if it's me or if I'm losing my touch

to all the moms, step-mom,aunts, and grandmothers

I'm on level 11661 now...sorry, not taking pictures.. too old and I wouldn't know how to anyway... guess yall are going to have to take my word for it

Jethro713!! OMG!! you bloody ROCK!!!!! thank you so much!!! this was driving me crazy!!!

my game is not working tried moving the pieces with my mouse but its not working

can ADMIN add a "LIKE" button... to the "Did this answer the question"

huge thanks to everyone that tried to help me

I tried uninstalling it and reinstalling it but to no avail... and it's not just me, three other friends are having the same issues... buttons work when I want a booster, send lives,events, but not when I want to swap the candy to play...