🎃👻🍬 Play Trick-or-treat with us and get exclusive Community badges! (finished)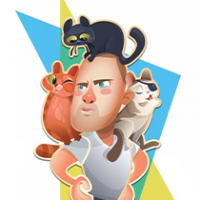 👪 New to the Community? Register here in just 2 seconds!
Welcome to our Halloween 2020 Trick-or-treat Competition in Community! 
Have you already found a trick-or-treater in one of our games? Or did you just arrive here in a Halloween mood?
No matter which one, let's continue or start playing this year's Halloween trick-or-treat game!
Seven of our games have a trick-or-treater in their Game Community. They are either hiding or just difficult to find or spot in the picture and you will need to figure out who the trick-or-treater is!
Head over to seven of our Game Communities and see if you can figure out the trick-or-treater in each one and post the name of the character on the game page.
For every correct name you comment, you'll get an exclusive Halloween Community badge, but remember to comment the name in every Game Community and also use the spoiler feature like this:
You can find a short cut to all trick-or-treaters in the seven games here:
If you manage to find out all seven character's names, then post all those names together here on this page to get the 8th and last Halloween 2020 Community badge. Don't forget to use the Spoiler feature mentioned above here as well.
Wait, there's more!
When the competition ends we'll pick three winners that will get a personal Community signature or avatar specially made only for them by @Crazy Cat Lad . Choose your favourite character or game element from any of the King games and @Crazy Cat Lad will make your new signature or avatar just the way you want it!
You can choose either an avatar or signature and the character or game elements need to be from a King game.
Happy Halloween and good luck!!
You have until Friday 6th of November at 13:00 CET to participate! You can read the Terms and Conditions here.
Comments
This discussion has been closed.