💍Join the Diamond Diaries Level 2000 Celebration
HERE
🌶 News & Hot topics
HERE
! // 🎀 Discover all King games
HERE
!
Meet Tiffi's new friends!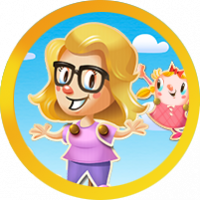 Elsa
Posts: 31,479
Community Hub Moderator
Last week @teresawallace44 was chatting with me in one of our messages and I told her that if she could find me a picture of herself that I'd add her into a story. Tiffi got so excited knowing that she would have new friends to chat with.
"Hi guys, I have new friends!" says Tiffi. "I am so excited that they are now going to be added to a couple of stories. You already know @Elsa who is our storyteller. Standing next to her is @teresawallace44 and next to her is @PrettyBubbles who loves to throw hearts and love to everyone in the community."
Their story has not been posted yet but I just posted a 2-part story on world history.
Meet Mr. Van Winkle who is 1000 years old. He has been asked if he would like to teach a world history class in the Candy Town school. I won't say anything else about this so ..............................
If you are Millennial, or a Generation Z then most of these history facts will not be familiar. For those of you who are Generation X you have lived through some of these events. Baby boomers you've lived through almost all of them! So .................. now it's time to learn some history. If we have any history buffs here, please feel free to write here.
Tiffi & Elsa learn a lot about world history
Enjoy!
Teresa and PrettyBubbles your story will be posted tomorrow and I'll come back here to post the link.

🌈_________________________________ 🌈_____________________________ 🌈
Leave a Comment