🎤 Meet our first Featured CM of the Month!
HERE
🌶 News & Hot topics
HERE
! // 🎀 Discover all King games
HERE
!
😃 Say hi to Hippo... 😃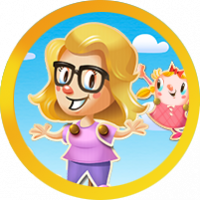 Elsa
Posts: 32,017
Community Hub Moderator
Want to participate, but no account, then register here in 2 minutes  
"@PrettyBubbles have you ever seen hippo?" asks @Elsa. "She made her first appearance in Candy Crush Soda Saga at the Spun Sugar Carnival. Let's listen to what she has to say."
"Step right up! Everyone's a winner at the Spun Sugar Carnival! Well aren't you just the luckiest! Hope that sweet luck follows you everywhere!"
What a sweet girl she is. But something just happened. Oh no! Some of the things have disappeared in  bottom picture. Maybe we Should we ask the community members to help us find them.
For this fun idea, you will be looking for 6 changes in the picture. Good luck!

🌈_________________________________ 🌈_____________________________ 🌈