🎤 Meet our first Featured CM of the Month!
HERE
🌶 News & Hot topics
HERE
! // 🎀 Discover all King games
HERE
!
😀 Who can beat my score on level 500? 🤣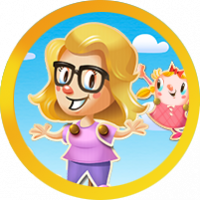 Elsa
Posts: 31,924
Community Hub Moderator
Want to participate, but no account, then register here in 2 minutes 
"You're not going to believe what I did last night @PrettyBubbles!" exclaims @Elsa. "I was bored out of my mind watching TV so I decided to play some of my candy crush games. Those higher levels can be difficult so I gave up on my current levels and scrolled down, down, down to level 500 and I did some print screens of the scores once I cleared them. We both know how much our Community members love to beat the score puzzles, so let's give our candy crushers a chance to compete.
Can you beat these scores?
Candy Crush Soda Sage - 283060
Candy Crush Jelly Saga - 287000
Candy Crush Saga – 506440 
Please feel free to try to beat my scores on all 3 games(if you play all of them) or just one. Good luck and have fun!

🌈_________________________________ 🌈_____________________________ 🌈
Leave a Comment