🎨 New in the Hub: The Art Nook!
Share your King Fanart!
☀️ Introducing the King Accessibility Heroes! Check it out
HERE
🌶 News & Hot topics
HERE
! // 🎀 Discover all King games
HERE
!
🕕️😀 It's time to try Candy Crush Friends Saga! 👍️👪️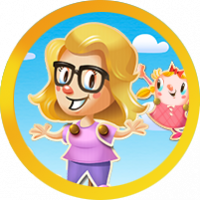 Elsa
Posts: 32,323
Community Hub Moderator
Spring is in the air! 
Have you ever met our King characters in Candy Crush Friends Saga? 
Look ……….. there is Tiffi and her best friend Yeti. Jelly Queen looks spectacular in her new spring outfit!
Let's get back on topic.............. 
First I'd like to welcome all newbies to our community 👪️ and say hello to all the other players who have been here a while. 👪️
Have you ever played Candy Crush Friends Saga?
If you haven't, then you don't know what you're missing. It's a match 3 game just like Candy Crush Saga but here is the difference. You get to play with the characters.
This fun candy game is filled with delicious treats - cookies, jam, chocolate and more! You're favourite game modes, but sweeter than ever! It's much different than the other candy crush games because now you can choose one of these characters to play with you. The Friends studio created these images in 3D. It's really cool to watch their movements when you win a level. Below is my favorite Yeti character and this video was done when I cleared the level. Look at him go!
If you never played this game before, how about you give it a try? Here is their community and here is their Player's Guide. And you can't forget their contest area. Enter one of their contests and you might become a winner with the gold bars being added to your new game! At any time, if you need help please tag @Miss_Dani or @gr33n3y3z who are the game moderators for this game and don't forget to introduce yourself to @Lola_Pop who is the community manager for this game.
Now I would like to ask @Miss_Dani and @gr33n3y3z to tag some of the current Friends players to offer some feedback on why they love the game so much.
"You can find the Candy Crush Friends Saga app at any of the mobile stores," says Jelly Queen. "So what are you waiting for?"😀😀

🌈________________________________________________________ 🌈