☀️ Introducing the King Accessibility Heroes! Check it out
HERE
🎤 New Featured CM of the Month!
HERE
🌶 News & Hot topics
HERE
! // 🎀 Discover all King games
HERE
!
🕕️😀 It's time to try Farm Heroes Saga! 👍️👪️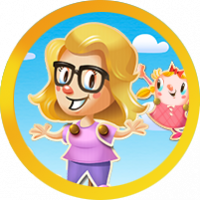 Elsa
Posts: 32,177
Community Hub Moderator
Spring is in the air! 
Amelia and her friends, Hunter and Choo, are planting their cropsies. But they have a big problem….   You see, Rancid the Racoon is trying to spoil the precious Farm Lands by stealing as many Cropsies as he can along the way. Will you join forces with Amelia to help her collect the Cropsies and save the day?
Have you ever played Farm Heroes Saga?
Play through hundreds of levels of switching and matching farming fun to find out!
Let's get back on topic. First I'd like to welcome all newbies to our community and say hello to all the other players who have been here a while.  
Is today the day that you will start to play Farm Heroes Saga?
If you never played this game before, how about you give it a try? Here is their community and here is their Player's Guide. And you can't forget their contest area. Enter one of their contests and you might become a winner with the gold bars being added to your new game! At any time, if you need help please tag @Lady_Choo, @encantes or @PummyRaj who are the game moderators for this game and don't forget to introduce yourself to @QueenB, the community manager for this game.
Now I would like to ask @Lady_Choo, @encantes or @PummyRaj to tag some of the current Friends players to offer some feedback on why they love the game so much.
"You can find the Farm Heroes Saga app at any of the mobile stores," says Rancid. "So what are you waiting for?"

🌈_________________________________ 🌈_____________________________ 🌈