What's going on here guys?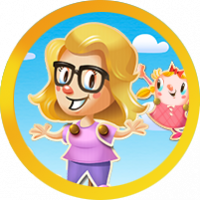 Elsa
Posts: 34,907
Sweet Legend
👨‍👩‍👦 New to the Community? Register here in just 2 seconds!
"Hey guys, what's going on?" asks Red Rabbit. "I just helped the players with their game and I was just heading out of the community when I saw both of you talking."
Jean-Luc and Jelly Queen are happy to see their friend.
"I have no clue what's going on," says Jean-Luc. "Oh hi Red Rabbit, we just got here and saw these weird shapes hanging outside the art nook."
Jelly Queen is so engrossed on trying to figure it out from the piece of paper that she found on the floor.  She hands it over to Red Rabbit to see if he knows what it could be.
"It must be something that the Hub moderators are planning," says Jelly Queen. "Look it has the date of December 1st on it. I wish that @Elsa or @wykoon were here right now to find out what's going to happen on that day."
Red Rabbit comes up with an idea.
"Hey maybe Tiffi knows what it's all about," Red Rabbit says. "Let's take the paper with us and I'll contact her to see if she knows. If she does, I will call both of you."
Let's start the countdown!
Can anyone figure out what could be coming soon to the Art Nook?
*****Tomorrow is the big reveal*****